Desserts
Easy and delicious made from scratch brownies.
1/2 cup butter, melted
1 cup sugar
1 tsp vanilla extract
2 eggs
1/2 cup all-purpose flour
1/3 cup cocoa powder
1/4 tsp baking powder
1/4 tsp salt
Heat oven to 350°F. Grease 9-inch square baking pan.
Stir together butter, sugar and vanilla in bowl.
Add eggs and beat well with spoon.
Combine flour, cocoa, baking powder and salt in separate bowl.
Gradually add dry mixture to egg mixture, beating until well blended.
Spread batter evenly in prepared pan.
Bake 20 to 25 minutes or until brownies begin to pull away from sides of pan.
Cool completely in pan on wire rack.
Published: Saturday, July 4th, 2015



Chocolate No Bake Cookies


Peanut Butter, Banana, and Chocolate Chip Muffins with Flax


Red Wine Beef Stew


Martini Fruit Parfait


Oreo Truffles
These cookies are great for breastfeeding moms to boost their milk production. The best part is they also taste delicious! If you are looking for cookies that are lactose free, replace the butter with olive oil. They are just as delicious!
1/2 cup old fashioned oats
1/4 cup flaxseed (or flaxseed meal)
2 Tbsp Brewers yeast
1 stick butter, melted
1 cup sugar
2 eggs
3/4 cup natural cocoa powder
1/2 tsp sea salt
1 tsp baking soda
1 Tbsp hot water
1 tsp vanilla
1 cup semi-sweet chocolate chips
Grind oats and flaxseed in a food processor until flour like.
Mix together butter and sugar until combined.
Add eggs and mix well.
Add oats and flaxseed pciture, brewers yeast, cocoa powder and salt. Stir until dough like,
Melt baking soda and warm water and add to dough mixture with vanilla.
Stir in chocolate chips.
Refrigerate mixture for 30 minutes.
Preheat oven to 350
Bake on a greased cookie sheet for 10 minutes or until cooked.
Let cool on a wire rack. Enjoy!
Published: Tuesday, March 31st, 2015



Mini Quiche


Texas Toast Pizza


Cake Mix Cookies


Peppermint Cookies


Pumpkin Muffins
3 ripe bananas
1/2 cup milk
1 tsp vanilla
1 Tbsp honey
1 cup blueberries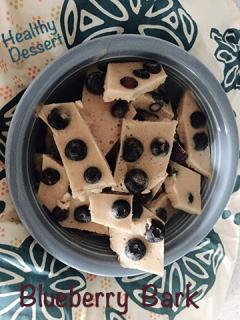 In a food processor blend together bananas, milk, vanilla and honey.
Fold in blueberries.
Spread out in an 8x8 greased pan.
Freeze.
Cut into pieces and keep frozen until eaten.
Published: Tuesday, February 10th, 2015



Pumpkin Spice Latte


Seasoned Corn on the Cob


Shrimp and Asparagus with Goji Berries


Easy Fruit Topping


Southwestern Lettuce Wraps
Makes about 2 dozen cookies
1 cup oatmeal
1 cup flour
1/4 tsp baking powder
1/4 tsp baking soda
1/4 tsp salt
1/4 tsp cinnamon
8 Tbsp butter
1/2 cup brown sugar
1/2 cup sugar
1 tsp vanilla
1 egg
1/2 cup dark chocolate chips
1/4 cup pomegranate seeds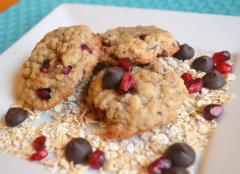 Preheat the oven to 350 F.
Beat butter, both sugars, and vanilla until creamy.
Stir in the egg.
Add flour, oatmeal, baking powder, baking soda, salt, and cinnamon until just combined.
Gently Stir in the chocolate chips and pomegranate seeds.
Scoop out cookie dough in tablespoon sized balls and place on a greased cookie sheet.
Bake for 8-10 minutes.
Cool on wire racks.
Published: Sunday, December 15th, 2013



Slow Cooker Creamy Chicken with Vegetables


Easy Fruit Topping


Chocolate No Bake Cookies


Mint Whoopie Pies


Eggplant Truffle Dip