Side dishes
This recipe is very versatile. You will notice I haven't put portions because I make it different every time.
redskin potatoes
Wildtree roasted garlic grapeseed oil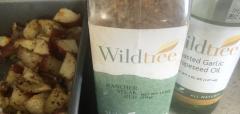 Preheat oven to 400
Dice potatoes.
Place potatoes in a baking pan and lightly coat and toss with oil.
Sprinkle with steak rub and toss the potatoes again to make sure they are evenly coated.
Use as mich or as little spice depending on how much flavor you would like.
Cover with tinfoil and bake for 30 minutes. (I like mine crispy so I stir them up and then put them back in uncovered to make sure they are crispy.)
Published: Monday, August 31st, 2015



Banana Pancakes


Buffalo Chicken Dip


Cake Mix Cookies


Crabmeat Cucumbers


Peppermint Cookies
These are great as a side dish or as an appetizer served with garlic aioli dip.
1 lb brussel sprouts, sliced
4 cloves garlic, minced
olive oil
balsamic vinegar
balsamic vinegar glaze
preheat oven to 400 degrees.
Place brussel sprouts and garlic on a baking sheet.
Coat well with oil and vinegar
Bake for 20 minutes or until crispy, stir halfway through.
Published: Wednesday, August 26th, 2015



Shrimp and Asparagus with Goji Berries


Italian Turkey Meatballs


Southwestern Lettuce Wraps


Stuffed Mexican Baked Sweet Potatoes


Cheese Tortellini Tomato Soup
I love these sweet and spicy flavor for my corn.
Corn on the cob, cooked
Butter
Chili powder
Brown sugar
Salt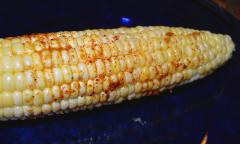 While corn is still hot coat with butter evenly.
Sprinkle chili powder, brown sugar, and salt evenly over the corn.
Enjoy!
Published: Monday, August 31st, 2015



Cookie Dough Brownies


Saltine Toffee


Easy Doughnuts


Roasted Garlic


Farfalle with Ham, Leeks, and Peas
1/2 cup onions, chopped
1 Tbsp butter
2 tsp Dijon mustard
1 tsp salt
1/4 tsp pepper
1/2 cup milk
1/2 cup shredded cheddar cheese
1 medium zucchini, cubed
6 medium potatoes, cubed (can be skin on or peeled)
In a medium skillet saute onion in butter.
Add mustard, salt, pepper, milk and cheese. Stir until cheese is melted into the mixture.
Place potatoes in the bottom of a slow cooker and put zucchini on top of the potatoes.
Pour onion mixture over the potatoes and zucchini.
Cover. Cook on low 6 hours.
Use a food processor or immersion blender to blend potatoes.
Serve warm.
Published: Monday, December 24th, 2012



Easy Doughnuts


Honey Chipotle Chicken Bites


Black Bean Soup


Southwestern Lettuce Wraps


Easy Eggplant Parmesan