Low fat
1/2 cup brown rice
1 cup vegetable broth
1 tsp chili powder
1 tsp smoked paprika
1/2 tsp cumin
1/2 tsp garlic powder
1 cup sweet corn
1 cup black beans
1 avocado, diced
1 small onion, diced
2 Tbsp lemon juice
1 head of romaine lettuce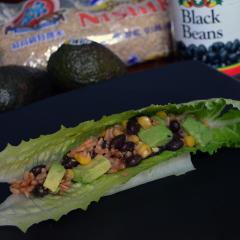 Place rice, broth and spices in rice cooker.
When rice is done cooking combine with corn, beans, avocado, onion, and lemon juice.
Scoop into a piece of lettuce.
Eat plain or with your favorite salsa.
Published: Monday, February 9th, 2015



Cabbage Casserole in a Pumpkin


Texas Toast Pizza


Mango Guacamole


Dijon Chip Dip


Baked Potato Nachos
1 cup of your favorite fruit
1 cup whipped topping
1 8 oz container vanilla yogurt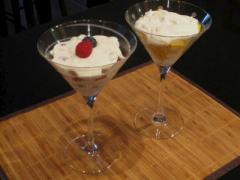 Cut fruit into small pieces.
Thaw whipped topping slightly.
Stir together yogurt and whipped topping.
Layer together fruit and topping.
Published: Monday, July 30th, 2012



Cornbread Casserole


Southwestern Lettuce Wraps


Vegetarian Chili


Pear, Walnut, and Blue Cheese Flatbread


Homemade Granola
1 large eggplant, sliced
1 egg
1/8 cup lemon juice
1 cup bread crumbs
1/4 tsp parsley
1/4 tsp basil
1/4 tsp garlic powder
olive oil
1 jar spaghetti sauce
shredded mozzarella
In small bowl combine egg and lemon juice. Blend together.
In another small bowl combine bread crumbs and spices.
Place each slice of eggplant in the egg mixture and then in the bread crumbs mixture.
Preheat oven to 350.
Heat oil in large skillet over medium heat. Cook eggplant slices until brown on each side.
Place the cooked slices on a cookie sheet. Top each slice with sauce and cheese.
Bake for 15 minutes or until cheese is melted.
Published: Sunday, November 6th, 2011



Spicy Chicken Enchilada Soup


Rolo Stuffed Snickerdoodle Cookies


Peanut Butter, Banana, and Chocolate Chip Muffins with Flax


Peanut Butter Balls


Dark Chocolate Pomegranate Cookies
Submitted by: Kristy
This is one of my favorite vegetable soup made from cans. The chili beans give it a perfect flavor.
2 small cans tomato soup
2 cans diced tomatoes, undrained
2 cups mixed vegetables, drained
1 can of corn, drained
1 can green beans, drained
2 cans chili beans, undrained
4 cups broth (chicken or vegetable)
Mix all ingredients together.
If using a slow cooker, cook on low for 4 hours.
If using a saucepan, bring all ingredients to rolling boil and simmer for 1 hour.
Published: Sunday, October 16th, 2011



Vegetarian Chili


Traditional Beef Stroganoff


Homemade Granola


Potato Casserole and Gravy


Baked Parmesan Chicken