Beverages
2 cups milk
2 Tbsp canned pumpkin
2 Tbsp sugar
2 tsp vanilla extract
1/2 tsp pumpkin pie spice
1/2 cup espresso or very strong coffee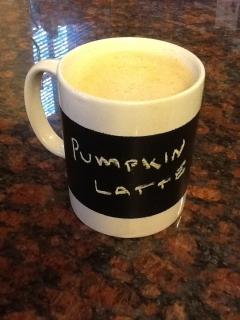 Combine milk, pumpkin and sugar in a small saucepan.
Heat until very hot (do not boil).
Remove from heat and add vanilla and pumpkin pie spice.
Blend or whisk until frothy.
Combine milk mixture with hot espresso.
**Makes two servings**
Published: Friday, September 14th, 2012



Avocado Mint Lime Ice Pops


Italian Turkey Meatballs


Whoopie Pies


Peanut Butter Balls
1 Tbsp whole espresso beans
2 Tbsp cold coffee
2 Tbsp heavy cream
1 pint coffee ice cream
Add beans, coffee and cream to a blender
Scoop in ice cream
Cover and blend until smooth
Published: Monday, July 30th, 2012



Spinach and Artichoke Dip


Honey Chipotle Chicken Bites


Vegetarian Italian Wedding Soup


White Bean and Spinach Soup
1 shot Smirnoff® vodka
1 shot light rum
1 shot gin
1 shot triple sec
1 splash beer
1 shot Southern Comfort® peach liqueur
1 shot amaretto almond liqueur
1 shot grenadine syrup
1 dash sweet and sour mix
Add the liquors and grenadine to a highball glass with ice.
Top off with sweet and sour mix, add a splash of beer, and stir.
Published: Sunday, April 15th, 2012



Easy Doughnuts


Blueberry Bark


Eggplant Truffle Dip


Peanut Butter Balls


Mint Chocolate Chip Cookies
Submitted by: Nana
This punch is a favorite at all our family parties!
2 64 oz. cans pineapple juice
1 2 liter bottle ginger ale
1 can frozen lemonade concentrate
Mix all ingredients together in a punch bowl.
Add lots of ice.
Published: Sunday, February 19th, 2012



BBQ Cauliflower Tacos


Veggie Burger Wonton Cups


White Bean and Spinach Soup


Potato and Rosemary Pizza