Soup
2 large eggplants
3 Tbsp olive oil, divided
1 large onions, thinly sliced
6 oz. mushrooms, diced
6 cloves garlic, minced
2 tsp dried oregano, crumbled
1 tsp cinnamon
1 tsp salt
1 tsp pepper
1 bay leaf
2 cups vegetable broth
1 can chickpeas
1 28-oz can diced tomatoes
1/4 cup finely chopped fresh parsley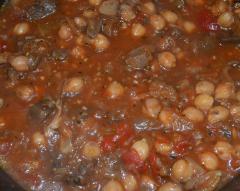 Meanwhile, peel eggplants and cut in half lengthwise. Brush the cut sides liberally with 2 tablespoons oil. Place on a rimmed baking sheet, cut-side down, and roast until tender, about 25 minutes. Let stand until cool enough to handle. Cut into 1-inch cubes and place in slow cooker.
Meanwhile, heat the remaining 1 tablespoon oil in a large skillet over medium heat. Add onions and mushrooms and cook, stirring frequently, until softened, 3 to 6 minutes. Add garlic, oregano, cinnamon stick, salt, pepper, and bay leaf; cook, stirring, for 1 minute. Add broth and chickpeas. Bring to a boil and cook, stirring occasionally, for 5 minutes. Transfer to the slow cooker and stir to combine with the eggplant.
Cover and cook until the chickpeas are very tender, about 4 hours on High 8 hours on Low.
Remove bay leaf. Stir in tomatoes and parsley.
Published: Tuesday, October 22nd, 2013



White Bean and Spinach Soup


Nutella Carmel Kiss Cookies


Slow Cooker Creamy Chicken with Vegetables


Potato and Rosemary Pizza


Pumpkin and Chocolate Muffins
This is a delicious fall stew!
1 tsp butter
1/2 onion, sliced
1 bottle pumpkin beer
2 cups vegetable broth
1/2 small head cabbage, diced
4 small potatoes, peeled and diced
2 cloves garlic, minced
2 carrots, peeled and sliced
2 Tbsp apple cider vinegar
1 Tbsp parley
salt and pepper to taste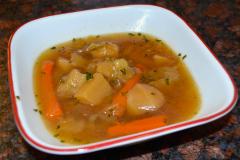 heat butter in pan and saute onions until golden brown (about 5 minutes).
Combine onions, beer, broth, cabbage, potatoes, garlic, and carrots into a crock pot and cook on low for 6-8 hours.
Add vinegar and spices just before serving.
Published: Monday, October 7th, 2013



Zucchini Pancakes


Seasoned Corn on the Cob


Saltine Toffee


Spinach and Artichoke Dip


Garlic Beer Pretzels
1 lb. ground beef
1 Tbsp oil
1 small onion, diced
2 cups cabbage, diced
2 cloves garlic, crushed
1/2 cup brown rice
2 cups tomato broth
4 cups beef broth
28 oz. canned diced tomatoes
2 cups sauerkraut
1 tsp smoked paprika
1 tsp paprika
2 bay leaves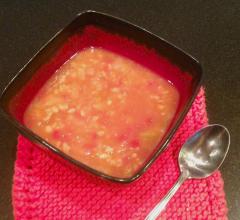 Brown the ground beef, drain the grease and place in slow cooker.
Heat the oil in the pan and add onions and cabbage and saute until tender, about 5-7 minutes.
Add the garlic and saute until fragrant, about a minute and place mixture in slow cooker.
Add the rice and toast for a few minutes.
Add 1 cup broth and deglaze the pan.
Combine all ingredients in crockpot and cook on low for 6-8 hours.
Published: Monday, September 30th, 2013



Easy Fruit Topping


Southwestern Lettuce Wraps


Garlic Beer Pretzels


Cornbread Casserole


Homemade Granola
1 (2-3 lb) butternut squash, peeled and seeded
2 Tbsp butter
1 medium onion, chopped
6 cups chicken broth
1 tsp nutmeg
Salt and pepper to taste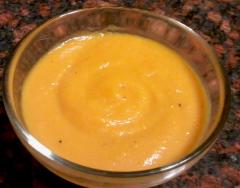 Cut squash into 1-inch chunks.
In large pot melt butter. Add onion and cook until translucent, about 8 minutes.
Add squash and chicken broth.
Bring to a boil.
Reduce heat to a simmer and cook until squash is tender, about 20 minutes.
Using an immersion blender, blend until soup is smooth.
Season with nutmeg, salt, and pepper.
Published: Thursday, November 22nd, 2012



Baked Parmesan Chicken


Texas Toast Pizza


Banana Pancakes


Rolo Stuffed Snickerdoodle Cookies


Mint Whoopie Pies