Appetizers
1 box cornbread Stovetop stuffing
3 eggs
2 cans crabmeat (6 oz.), drained
1 Tbsp butter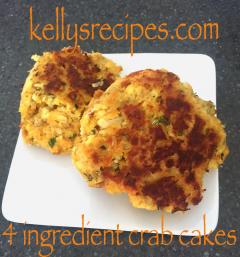 Cook stuffing according to package directions.
Add eggs and crabmeat to cooked stuffing
Form into 4 patties.
Melt butter in medium fry pan.
Cook patties until heated through and brown on both sides.
Published: Thursday, April 9th, 2015



Eggplant Truffle Dip


Homemade Granola


BBQ Cauliflower Tacos


Breakfast Potato Skins


Cabbage Roll Soup
3 ripe bananas
1/2 cup milk
1 tsp vanilla
1 Tbsp honey
1 cup blueberries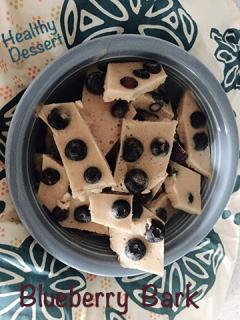 In a food processor blend together bananas, milk, vanilla and honey.
Fold in blueberries.
Spread out in an 8x8 greased pan.
Freeze.
Cut into pieces and keep frozen until eaten.
Published: Tuesday, February 10th, 2015



Candy Cane Popcorn

Grilled Summer Squash Salad


BBQ Cauliflower Tacos


Black Bean Soup


Spinach Dip Bread Bowl
These are great as a side dish or as an appetizer served with garlic aioli dip.
1 lb brussel sprouts, sliced
4 cloves garlic, minced
olive oil
balsamic vinegar
balsamic vinegar glaze
preheat oven to 400 degrees.
Place brussel sprouts and garlic on a baking sheet.
Coat well with oil and vinegar
Bake for 20 minutes or until crispy, stir halfway through.
Published: Wednesday, August 26th, 2015



Cream of Asparagus Soup


Zucchini Bake


Dark Chocolate Pomegranate Cookies

White Chocolate Grapes


Spinach and Sundried Tomato Flatbread Sandwich
Add honey and rosemary to taste.
1 french baguette, sliced
olive oil
1 4 oz container ricotta cheese
2 Tbsp honey
1 Tbsp rosemary
Preheat oven to 450.
Mix together ricotta, honey and rosemary.
Coat one side of each slice with olive oil using a pastry brush.
Place on a cooking sheet, olive oil side down. Toast for 5-6 minutes, until the bread just begins to turn golden brown.
Spoon ricotta mixture on bread, olive oil side up.
Published: Monday, October 28th, 2013



Fall Beer Stew


Shrimp Ceasar Wrap


Banana Peanut Butter Brownie Pizza


Potato and Rosemary Pizza


Martini Fruit Parfait