Breakfast
Published by: Maureen Yield: 2 loves
3 eggs
2 cups finely shredded zucchini
1 cup vegetable oil
1 can (8 oz) crushed pineapple, drained
2 tsp vanilla extract
3 cups all-purpose flour
2 cups sugar
2 tsp baking soda
1-1/2 tsp ground cinnamon
1 tsp salt
3/4 tsp ground nutmeg
1/2 tsp baking powder
1 cup chopped nuts or raisins, optional
Preheat oven to 350.
In a large bowl combine the eggs, zucchini, oil, pineapple and vanilla.
Combine dry ingredients in separate bowl; stir into egg mixture until moistened.
Fold in nuts and raisins if desired.
Pour into two greased 8-in x 4-in loaf pans.
Bake at 350 for 50-60 minutes or until a toothpick comes out clean.
Cool for 10 minutes before removing from pans to wire racks to cool.
Published: Saturday, January 10th, 2015



Zucchini Bake


Black Bean Soup


Eggplant Stew


Seasoned Corn on the Cob


Farfalle with Ham, Leeks, and Peas
Add honey and rosemary to taste.
1 french baguette, sliced
olive oil
1 4 oz container ricotta cheese
2 Tbsp honey
1 Tbsp rosemary
Preheat oven to 450.
Mix together ricotta, honey and rosemary.
Coat one side of each slice with olive oil using a pastry brush.
Place on a cooking sheet, olive oil side down. Toast for 5-6 minutes, until the bread just begins to turn golden brown.
Spoon ricotta mixture on bread, olive oil side up.
Published: Monday, October 28th, 2013



Honey Chipotle Chicken Bites


Southwestern Lettuce Wraps


Oreo Truffles


Pear, Walnut, and Blue Cheese Flatbread


Eggplant Truffle Dip
1/2 cup all-purpose flour
1/2 cup whole wheat flour
3/4 cup sugar
1 cup creamy peanut butter
2 Tbsp milled flax seed
1 tsp baking powder
1/4 tsp salt
1/3 cup milk
2 large ripe bananas, mashed
1 large egg
1/3 cup mini chocolate chips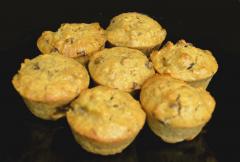 Pre-heat oven to 375 degrees.
Coat mini muffin cups with non-stick cooking spray.
Combine flour, sugar and peanut butter in large bowl with a fork until even crumbs form.
Add flax seed, baking powder and salt to flour mixture.
Stir in milk, bananas and egg until evenly moistened.
Stir in mini chocolate chips.
Fill mini muffin cups about 3/4 full.
Bake 20 to 22 minutes or until toothpick inserted in center comes out clean.
Cool a few minutes before removing from pan and finish cooling on a wire rack.

*Makes 36 mini muffins
Published: Monday, January 28th, 2013



Spinach Dip Bread Bowl


Slow Cooker Creamy Chicken with Vegetables


Italian Turkey Meatballs


Spinach and Sundried Tomato Flatbread Sandwich


Traditional Beef Stroganoff
1 cup steel cut oats
4 cups water
1/4 cup sugar
1/4 cup brown sugar
1/2 cup pumpkin
2 tsp pumpkin pie spice
Add water to a medium sized sauce pan, bring to a boil.
Stir in oats and reduce heat to medium-low.
Simmer for 30 minutes.
Stir in sugar, brown sugar, and pumpkin pie spice.
Mix in pumpkin and stir well.
Published: Thursday, November 22nd, 2012



Eggplant Truffle Dip


Saltine Toffee


Portabella Mushroom Fajitas


Red Wine Beef Stew


Pear and Walnut Salad