Desserts
Page 5
1 pkg red velvet cake mix
1/2 cup oil
2 eggs
1/2 can of cream cheese frosting
Preheat oven to 375 degrees.
In a large bowl mix cake mix, oil, and eggs with a spoon until mix is moistened.
Shape dough into one-inch balls and place on ungreased cookie sheet.
Flatten the balls.
Bake at 375 degrees for 8-9 minutes or until the edges are light golden brown.
Cool one minute then remove from cookie sheet.
Frost immediately while cookies are warm.
Allow cookies to cool and frosting to harden.
Published: Monday, August 13th, 2012



Slow Cooker Corned Beef and Cabbage


Potato Casserole and Gravy


Eggplant Truffle Dip

Grilled Summer Squash Salad


Martini Fruit Parfait
1 Tbsp whole espresso beans
2 Tbsp cold coffee
2 Tbsp heavy cream
1 pint coffee ice cream
Add beans, coffee and cream to a blender
Scoop in ice cream
Cover and blend until smooth
Published: Monday, July 30th, 2012



Vegetarian Stuffed Acorn Squash


Southwestern Lettuce Wraps


Rolo Stuffed Snickerdoodle Cookies


Easy Crab Cakes


Green Chile Chicken Chowder
1 cup of your favorite fruit
1 cup whipped topping
1 8 oz container vanilla yogurt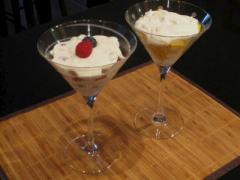 Cut fruit into small pieces.
Thaw whipped topping slightly.
Stir together yogurt and whipped topping.
Layer together fruit and topping.
Published: Monday, July 30th, 2012



Roasted Garlic


Easy Doughnuts


Cheese Tortellini Tomato Soup


Eggplant Stew


Oreo Truffles
Submitted by: Kristy
1 cup water
1/2 cup sugar
1/4 cup lime juice
1/4 chopped mint leaves
1 medium ripe avocado, well mashed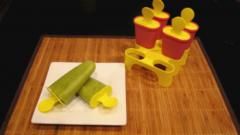 Bring water to a boil then turn off heat
Dissolve sugar and add chopped mint leaves
Cool completely and strain out mint leaves
In a separate bowl mix avocado and lime juice
Combine avocado and water mixtures
Add to ice pop molds and freeze.
**Makes six small ice pops**
Published: Friday, July 13th, 2012



Easy Doughnuts


Avocado Mint Lime Ice Pops


Veggie Burger Wonton Cups


Slow Cooker Creamy Chicken with Vegetables


Spicy Chicken Enchilada Soup