Condiments
1/2 cup pomegranate vinegar
1/2 cup oil
1/2 cup white sugar
2 tsps dijon mustard
1/2 tsp oregano
mix all ingredients together and shake well.
serve chilled.
Published: Sunday, September 15th, 2013



Easy Eggplant Parmesan


Mexican Lasagna


Mushroom Gravy


Avocado Mint Lime Ice Pops


Cabbage Roll Soup
5 Tbsp dried minced onions
7 tsp parsley flakes
4 tsp salt
1 tsp garlic powder
Place minced onion in a food processor and chop until fine. Mix parsley flakes, salt, and garlic powder in food processor until well blended.
Store in an airtight container.
**To make dressing mix together 2 Tbsp dry mix with one cup mayonnaise and 1 cup milk.**
Published: Sunday, April 21st, 2013



Eggplant Truffle Dip


Cake Mix Cookies


Easy Doughnuts


Easy Fruit Topping


Portabella Mushroom Fajitas
1 Tbsp garlic salt
1 Tbsp onion powder
1 Tbsp sugar
2 Tbsp dried oregano
1 tsp pepper
1/4 tsp dried thyme
1 tsp dried basil
1 tsp dried parsley
1/4 tsp celery salt
2 Tbsp salt
In a small bowl, mix together the garlic salt, onion powder, sugar, oregano, pepper, thyme, basil, parsley, celery salt and regular salt. Store in a tightly sealed container.
To prepare dressing, whisk together 1/4 cup white vinegar, 2/3 cup oil, 2 tablespoons water and 2 tablespoons of the dry mix.
Published: Monday, March 4th, 2013



Strawberry Spinach Salad


Portabella Mushroom Fajitas


Eggplant Truffle Dip


Mushroom Gravy


Farfalle with Ham, Leeks, and Peas
Submitted by: Aaron
Recipe is for sauce. It tastes great on breaded chicken chunks. Cook chicken according to package directions. Toss with sauce when done baking.
1/2 cup dark Rum
1/4 cup soy sauce
1/4 cup white wine
2 tsp sugar
1 tsp ground ginger
1 tsp garlic, minced
1-3 Tbsp cornstarch
3 Tbsp lime juice
1 cup honey
1-3 Tbsp ground chipotle chile pepper (subtitute 1 canned chipotle per Tbsp)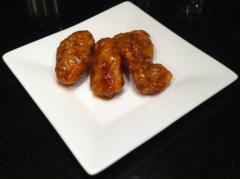 In small saucepan mix together rum, soy sauce, wine, sugar, ginger and garlic together and bring to a boil.
Combine cornstarch and lime juice and add to the sauce pan. Amount to use varies depending on preferred thickness. Add honey and 1 chipotle chile pepper. If desired, continue to add peppers until desired temperature.
Published: Sunday, February 12th, 2012



Saltine Toffee


Strawberry Spinach Salad


Spinach Dip Bread Bowl


Mint Chocolate Chip Cookies


Mint Whoopie Pies