Salad
This salad pairs well with pomegranate vinaigrette.
1 pear, diced
1/4 cup feta cheese
1/2 cup walnuts, chopped
2 Tbsp cranberries
1 bag spring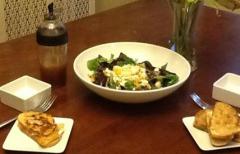 Add spring mix to bowl and cover with toppings.
Published: Sunday, September 15th, 2013



Fall Beer Stew


Pizza Dough


Candy Cane Popcorn


Banana Pancakes


Cookie Dough Brownies
1 large bunch kale, stalks removed and discarded, leaves thinly sliced
1 lemon, juiced and divided
1/4 cup olive oil, plus extra for drizzling
Kosher salt
2 tsp honey
Freshly ground black pepper
1 mango, diced
3 Tbsp shelled sunflower seeds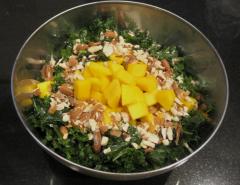 In large serving bowl, add the kale, half of lemon juice, a drizzle of oil and a little kosher salt.
Massage the kale with hands until it starts to soften and wilt (about 3 minutes) and set aside.
In a small bowl, whisk remaining lemon juice with the honey and black pepper.
Slowly add the 1/4 cup of olive oil while whisking.
Pour the dressing over the kale, and add the mango and sunflower seeds.
Published: Tuesday, February 21st, 2012



Pizza Dough


Slow Cooker Corned Beef and Cabbage


Homemade Granola


Candy Cane Popcorn


Kale Salad
*If you want to make this sauce as a salad dressing, add a small amount of vinegar until it is the taste/consistency you would like.
6 Tbsp mayonnaise
1 Tbsp dijon mustard
1 Tbsp honey
pinch of salt
Mix all ingredients together.
Refrigerate until ready to serve.
Published: Monday, September 26th, 2011



Veggie Burger Wonton Cups


Zucchini Bake


Spinach Dip Bread Bowl


Roasted Garlic


Seasoned Corn on the Cob
1 pint grape or cherry tomatoes
1 cup fresh mozzarella balls
5 large basil leaves, diced
2 Tbsp balsamic vinegar
1 tsp olive oil (Wildtree basil pesto grapeseed oil works well)
Mix all ingredients together.
Serve chilled.
Published: Sunday, August 21st, 2011



Blueberry Bark


Red Wine Beef Stew


Potato Cheese Soup


BBQ Cauliflower Tacos


Cheese Tortellini Tomato Soup