Snacks
3 ripe bananas
1/2 cup milk
1 tsp vanilla
1 Tbsp honey
1 cup blueberries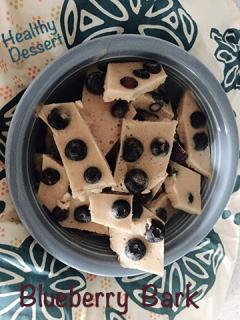 In a food processor blend together bananas, milk, vanilla and honey.
Fold in blueberries.
Spread out in an 8x8 greased pan.
Freeze.
Cut into pieces and keep frozen until eaten.
Published: Tuesday, February 10th, 2015



Mexican Lasagna


Cream of Asparagus Soup

White Chocolate Grapes


Red Wine Beef Stew


Shrimp Ceasar Wrap
2 cups sugar
2 cups brown sugar
5 Tbsp cinnamon
1/4 tsp salt
2 egg white
3 tsp vanilla
6 cups almonds
1/2 cup water
In a medium sized bowl, mix together sugar, brown sugar, cinnamon, and salt. Set aside.
In another bowl, whisk together egg white and vanilla until it is frothy.
Coat almonds with egg mixture. Add cinnamon mixture to the almonds and toss until coated.
Add almonds to a well coated crock pot.
Cook on low about 3 hours.
In the last hour, add the water and stir well.
If desired, lay almonds out on a wax paper lined cookie sheets to cool and avoid clumping. Mine never made it to this process, they were gobbled up right away!
Published: Wednesday, November 28th, 2012



BBQ Cauliflower Tacos


Spinach and Artichoke Dip


Banana Pancakes


Baked Potato Nachos


Potato and Rosemary Pizza
This is my Grandma's secret whoopie pie recipe that I changed a little bit for St. Patrick's day. They turned out great!
Cake:
2 cups flour
1 tsp baking soda
1/4 tsp salt
1/3 cup cocoa
1 cup sugar
1 egg
1/3 cup vegetable oil
1 tsp vanilla
3/4 cup milk
Filling:
1 stick margarine, softened
1 cup powdered sugar
1 heaping Tbsp marshmallow fluff
1 tsp peppermint extract
4 drops green food coloring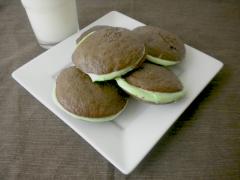 Preheat oven to 350.
Mix together dry ingredients.
Add egg, oil, vanilla, and milk.
Beat until smooth.
Drop by the tablespoonful onto greased cookie sheet allowing room for spreading.
Bake for 10- 12 minutes.
Remove from pan and let cool.
Combine all filling ingredients in a bowl.
Spread filling onto flat side of one cake and top with another cake creating a sandwich.
Published: Thursday, March 15th, 2012



Potato and Rosemary Pizza


Red Wine Beef Stew


Peanut Butter, Banana, and Chocolate Chip Muffins with Flax


Seasoned Corn on the Cob


Breakfast Potato Skins
These sand cups are prefect for a summer party. Top with decorations to give the look of a beach. Some suggestions include paper umbrellas, gummy fish, gummy sharks, and gum balls. Get creative!
2 cups cold milk
1 package instant vanilla pudding
8 oz. whipped topping, thawed
1 pkg. crushed vanilla wafers
8-10 clear 7oz. cups
Decorations
Pour milk into a bowl and add pudding mix.
Beat with whisk until well blended, about 2 minutes.
Let stand 5 minutes.
Stir in whipped topping and half of the crushed cookies.
Place 1 tablespoon crushed cookies into the bottom of each cup.
Fill cups 3/4 full with pudding mixture.
Top with remaining crushed cookie.
Refrigerate for 1 hour.
Decorate.
Published: Monday, February 20th, 2012



Cabbage Roll Soup


Simple Butternut Squash Soup

White Chocolate Grapes


Peppermint Cookies


Spinach Dip Bread Bowl