Desserts
Page 2
Submitted by: Kristy
These cookies are perfect for a summer picnic!
1 pkg. white cake mix
1/2 cup oil
2 eggs
20 drops green food coloring
1 can "Pillsbury Hot Pink Vanilla" cake frosting
mini chocolate chips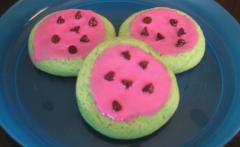 Preheat oven to 375 degrees.
In a large bowl mix cake mix, oil, eggs, and food coloring with a spoon until mix is moistened.
Shape dough into one-inch balls and place on ungreased cookie sheet. Flatten the balls.
Bake at 375 degrees for 8-9 minutes or until the edges are light golden brown.
Cool one minute then remove from cookie sheet.
Frost immediately while cookies are warm.
Add chocolate chips to look like seeds. Let frosting harden.
Published: Thursday, June 27th, 2013



Eggplant Stew


Strawberry Spinach Salad


Spinach Dip Bread Bowl


White Bean and Spinach Soup


Fall Beer Stew
1/2 cup shortening
1/2 cup Nutella
1/2 cup granulated sugar
1/2 cup brown sugar
1 tsp baking powder
1/8 tsp baking soda
1 egg
2 Tbsp milk
1 tsp vanilla
1 3/4 cup all purpose flour
1/4 cup granulated sugar for rolling
36 Carmel Hershey Kisses, unwrapped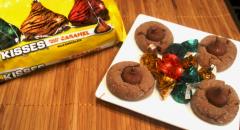 In a large mixing bowl, beat shortening and Nutella.
Add the 1/2 c granulated sugar, brown sugar, baking powder, and baking soda and beat until combined.
Beat in egg, milk, and vanilla.
Beat in the flour.
Scoop out rounded tablespoons and roll dough into 1-inch balls.
Roll the balls in the granulated sugar and place 2 inches apart on a parchment lined, ungreased cookie sheet.
Bake at 350 for 8-10 minutes, until edges are set.
Remove from over and immediately press a kiss into the center of each cookie.
Remove from pan and cool in a wire rack.
Makes approx. 3 doz cookies
Published: Monday, December 24th, 2012



Shrimp Ceasar Wrap


Black Bean Soup


Spinach and Artichoke Dip


Peppermint Cookies


Breakfast Potato Skins
2 cups sugar
2 cups brown sugar
5 Tbsp cinnamon
1/4 tsp salt
2 egg white
3 tsp vanilla
6 cups almonds
1/2 cup water
In a medium sized bowl, mix together sugar, brown sugar, cinnamon, and salt. Set aside.
In another bowl, whisk together egg white and vanilla until it is frothy.
Coat almonds with egg mixture. Add cinnamon mixture to the almonds and toss until coated.
Add almonds to a well coated crock pot.
Cook on low about 3 hours.
In the last hour, add the water and stir well.
If desired, lay almonds out on a wax paper lined cookie sheets to cool and avoid clumping. Mine never made it to this process, they were gobbled up right away!
Published: Wednesday, November 28th, 2012



Mint Whoopie Pies


Banana Peanut Butter Brownie Pizza


Mushroom Gravy


Dark Chocolate Pomegranate Cookies


Zucchini Pancakes
2 bags microwave popcorn, popped (18-20 cups)
1 6oz box candy canes, crushed
1 pkg Wilton candy melts candy cane flavor
1/4 tsp peppermint extract
Place popped popcorn in a very large bowl.
Pour crushed candy canes on top of the popcorn.
Melt chocolate according to instructions on the package.
Add the peppermint extract or oil to the melted chocolate and pour over popcorn.
Stir until all the popcorn is coated.
Pour popcorn on wax paper and allow to harden.
Once the popcorn has hardened, break into pieces!
Published: Thursday, November 22nd, 2012



Vegetarian Italian Wedding Soup


Banana Peanut Butter Brownie Pizza


Slow Cooker Corned Beef and Cabbage


Vegetarian Sloppy Joes


Honey Chipotle Chicken Bites