Desserts
Page 3
4 eggs
1 1/4 cups vegetable oil
2 cups white sugar
2 tsp vanilla extract
2 cups all-purpose flour
2 tsp baking soda
2 tsp baking powder
1/2 tsp salt
2 tsp ground cinnamon
3 cups grated carrots
1 cup chopped pecans
1/2 cup butter, softened
8 oz. cream cheese, softened
4 cups confectioner's sugar
1 tsp vanilla extract
1 cup chopped pecans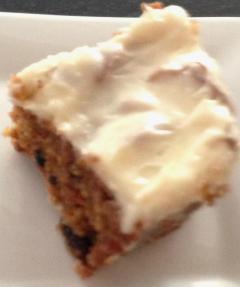 Preheat oven to 350.
Grease and flour a 9x13 inch pan.
In a large bowl, beat together eggs, oil, white sugar and vanilla.
Mix in flour, baking soda, baking powder, salt and cinnamon.
Stir in carrots. Fold in pecans.
Pour into greased pan.
Bake for 40 to 50 minutes, or until a toothpick comes out clean.
Let cool in pan for 10 minutes, then turn out onto a wire rack and cool completely.

To Make Frosting:

In a medium bowl, combine butter, cream cheese, confectioner's sugar and vanilla.
Beat until the mixture is smooth and creamy.
Stir in chopped pecans.
Frost the cooled cake.
Published: Thursday, November 22nd, 2012



Texas Toast Pizza


Black Bean Soup


Vegetarian Stuffed Acorn Squash


Easy Doughnuts


Dark Chocolate Pomegranate Cookies
Submitted by: Joannie
Cake:
1 box yellow cake mix
3 eggs
1/3 cup oil
1 large can mandarin oranges, undrained
Frosting:
1 8 oz Cool Whip
1 can crushed pineapple with juice
1 box instant vanilla pudding (dry)
Mix all ingredients together and beat until well mixed.
Bake per directions on cake box.
Beat together all frosting ingredients.
Once cake is cool, frost cake and refrigerate
Published: Thursday, August 16th, 2012



Garlic Beer Pretzels


Apple Butter


Martini Fruit Parfait


Easy Eggplant Parmesan

Grilled Summer Squash Salad
Submitted by: Joannie
1 family size frozen pound cake
1 large & 1 small strawberry Jello
3 cups water - 2 hot and 1 cold
frozen strawberries with juice
3 or 4 small cans vanilla pudding
8 oz cool whip
1 can crushed pineapple, drained
Cut pound cake into bite size pieces.
Layer in serving bowl.
Mix Jello with hot water and stir until dissolved.
Add cold water and continue to stir.
Add thawed strawberries with juice and pour over pound cake.
Pour canned vanilla pudding on Jello.
Mix 8 oz cool whip with drained, crushed pineapple and add to top.
Refrigerate.
Published: Tuesday, August 21st, 2012



Farfalle with Ham, Leeks, and Peas


Shrimp Ceasar Wrap


Candy Cane Popcorn


Slow Cooker Creamy Chicken with Vegetables


Cake Mix Cookies
This cookie dough recipe does not contain eggs so it is perfect if you are craving cookie dough but will not work if baked!
3/4 cup brown sugar
1/4 cup butter, softened
1/4 tsp vanilla
1/4 cup milk
1 cup flour
Pinch salt
1/2 cup chocolate chips
In a medium bowl, mix together the brown sugar and butter until smooth
Stir in vanilla and milk
Mix in flour, salt, and chocolate chips until combined.
Chill in the refrigerator until ready to serve.
Published: Monday, August 13th, 2012



Avocado Mint Lime Ice Pops


Dark Chocolate Pomegranate Cookies


Traditional Beef Stroganoff


Pumpkin and Chocolate Muffins


Shrimp and Asparagus with Goji Berries