Dark Chocolate Pomegranate Cookies
Makes about 2 dozen cookies
1 cup oatmeal
1 cup flour
1/4 tsp baking powder
1/4 tsp baking soda
1/4 tsp salt
1/4 tsp cinnamon
8 Tbsp butter
1/2 cup brown sugar
1/2 cup sugar
1 tsp vanilla
1 egg
1/2 cup dark chocolate chips
1/4 cup pomegranate seeds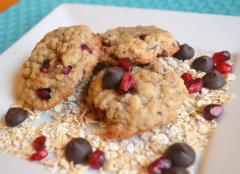 Preheat the oven to 350 F.
Beat butter, both sugars, and vanilla until creamy.
Stir in the egg.
Add flour, oatmeal, baking powder, baking soda, salt, and cinnamon until just combined.
Gently Stir in the chocolate chips and pomegranate seeds.
Scoop out cookie dough in tablespoon sized balls and place on a greased cookie sheet.
Bake for 8-10 minutes.
Cool on wire racks.
Published: Sunday, December 15th, 2013 by Kelly