Slow cooker
3/4 cups lentils
1 cup brown rice
4 cups cups water
1 pkg sloppy joe seasoning
1 tsp garlic powder
1 Tbsp minced onions
1/2 can tomato paste
6 Tbsp ketchup
Bbq sauce to taste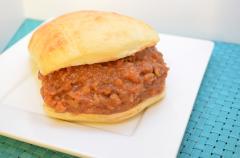 Combine lentils, rice, water and seasoning in the slow cooker. Cook on high for 4 hours. Add water if necessary.
When they are desired consistency, add sauces to taste.
Serve on hamburger buns.
Published: Thursday, January 2nd, 2014



Spinach and Artichoke Dip


Cornbread Casserole


Rolo Stuffed Snickerdoodle Cookies


Rancher Steak Rub Potatoes


Saltine Toffee
4 cups vegetable broth
2 cups tomato broth
1 15 oz can small Great Northern beans, drained and rinsed
1/2 cup uncooked brown rice
1/2 cup finely chopped onion
1 tsp dried basil
1/4 tsp salt
1/4 tsp black pepper
2 garlic cloves, chopped
8 cups coarsely chopped fresh spinach
Finely shredded Parmesan cheese
1 cups mushrooms, sliced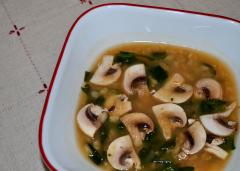 Combine broth, beans, rice, onion, basil, salt, pepper, and garlic in a slow cooker.
Cook on low-heat setting 5 to 7 hours.
Just before serving, stir in spinach.
Sprinkle with mushrooms and Parmesan cheese.
Published: Sunday, December 15th, 2013



Cabbage Roll Soup


Mint Chocolate Chip Cookies


Garlic Beer Pretzels


Traditional Beef Stroganoff


Mexican Lasagna
2 large eggplants
3 Tbsp olive oil, divided
1 large onions, thinly sliced
6 oz. mushrooms, diced
6 cloves garlic, minced
2 tsp dried oregano, crumbled
1 tsp cinnamon
1 tsp salt
1 tsp pepper
1 bay leaf
2 cups vegetable broth
1 can chickpeas
1 28-oz can diced tomatoes
1/4 cup finely chopped fresh parsley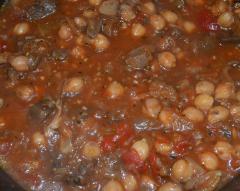 Meanwhile, peel eggplants and cut in half lengthwise. Brush the cut sides liberally with 2 tablespoons oil. Place on a rimmed baking sheet, cut-side down, and roast until tender, about 25 minutes. Let stand until cool enough to handle. Cut into 1-inch cubes and place in slow cooker.
Meanwhile, heat the remaining 1 tablespoon oil in a large skillet over medium heat. Add onions and mushrooms and cook, stirring frequently, until softened, 3 to 6 minutes. Add garlic, oregano, cinnamon stick, salt, pepper, and bay leaf; cook, stirring, for 1 minute. Add broth and chickpeas. Bring to a boil and cook, stirring occasionally, for 5 minutes. Transfer to the slow cooker and stir to combine with the eggplant.
Cover and cook until the chickpeas are very tender, about 4 hours on High 8 hours on Low.
Remove bay leaf. Stir in tomatoes and parsley.
Published: Tuesday, October 22nd, 2013



Traditional Beef Stroganoff


Cabbage Casserole in a Pumpkin


Zucchini Bake


Spinach and Artichoke Dip


Vegetarian Italian Wedding Soup
This is a delicious fall stew!
1 tsp butter
1/2 onion, sliced
1 bottle pumpkin beer
2 cups vegetable broth
1/2 small head cabbage, diced
4 small potatoes, peeled and diced
2 cloves garlic, minced
2 carrots, peeled and sliced
2 Tbsp apple cider vinegar
1 Tbsp parley
salt and pepper to taste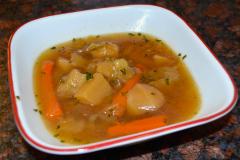 heat butter in pan and saute onions until golden brown (about 5 minutes).
Combine onions, beer, broth, cabbage, potatoes, garlic, and carrots into a crock pot and cook on low for 6-8 hours.
Add vinegar and spices just before serving.
Published: Monday, October 7th, 2013



Red Wine Beef Stew


Watermelon Cake Mix Cookies


Shrimp Ceasar Wrap


Vegetarian Sloppy Joes


Rancher Steak Rub Potatoes