Desserts
Page 15
Submitted by: Marie
3 1/2 oz bittersweet chocolate, chopped
5 tablespoons unsalted butter
1 egg
1/2 cup sugar
3 tablespoons self-rising flour
1/2 cup coarsely chopped nuts (you choose what kind, I used pecans)
1 oz white chocolate chips
1 cup marshmallows
Preheat oven to 350
Put the chocolate and butter in a heatproof bowl set over a pan of gently simmering water. Do not let the bowl touch the water. Stir until almost melted. Remove from the heat and let cool for about 5 minutes
Beat in the egg, then stir in the sugar. Sift the flour into the mixture and fold in, then stir in remaining ingredients.
Spoon into paper liners and bake for about 17 minutes until the top has turned pale and crackly and is just firm to the touch.
Published: Sunday, August 7th, 2011



Honey Chipotle Chicken Bites


Rancher Steak Rub Potatoes


Watermelon Cake Mix Cookies


Strawberry Spinach Salad


Blueberry Bark
Filling:
6 medium stalks rhubarb chopped
2 cups hulled and sliced strawberries
1/2 granulated sugar
Topping:
1 cup flour
1/2 old fashioned rolled oats
1/3 cup granulated sugar
1/3 cup packed brown sugar
1/2 teaspoon cinnamon
1/4 teaspoon salt
1/2 unsalted butter, melted
In square glass baking dish combine strawberries and rhubarb.
Sprinkle with sugar.
In small bowl combine all topping ingredients.
Layer topping over fruit mixture in baking dish.
Bake at 350 for 35-40 minutes or until top is crispy.
Published: Friday, July 29th, 2011



Shrimp Ceasar Wrap


Peanut Butter Balls


Easy Doughnuts


Pear and Walnut Salad


Cabbage Casserole in a Pumpkin
Submitted by: Kristy
This is a great low-fat alternative to pumpkin pie. I like to eat it with graham cracker crumbs and a dollop of whipped cream. Also, for an even lighter version use skim milk and sugar free pudding mix.
1 package instant vanilla pudding
1 cup canned pumpkin
1 1/2 cups milk
1/2 teaspoon cinnamon
1/4 teaspoon ground ginger
1/4 teaspoon ground nutmeg
Stir together dry pudding mix and spices.
Stir in milk and whisk for one minute.
Stir in pumpkin.
Chill for one hour.
Published: Wednesday, June 22nd, 2011



Potato Casserole and Gravy


Nutella Carmel Kiss Cookies


Seasoned Corn on the Cob


Slow Cooker Corned Beef and Cabbage


Green Chile Chicken Chowder
Submitted by: Kristy
This is a delicious low-fat treat for your sweet tooth. It is great with mango, strawberries, blueberries, bananas, and many other fruits. Just use your imagination!
1 8 oz container vanilla yogurt
1 cup whipped topping
1 cup of your favorite fruit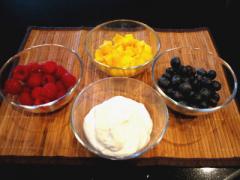 Cut fruit into small pieces.
Thaw whipped topping slightly.
Stir together yogurt and whipped topping.
Place mixture on top of fruit.
Published: Wednesday, June 22nd, 2011



Vegetarian Sloppy Joes


Seasoned Corn on the Cob


Pear, Walnut, and Blue Cheese Flatbread


Eggplant Truffle Dip


Easy Crab Cakes