Main dishes
Serves: 2
2 pieces of flatbread
1/2 cup walnuts
1/2 Tbsp butter
1 small onion, sliced
olive oil
mozzarella cheese
1 medium pear sliced
blue cheese
arugula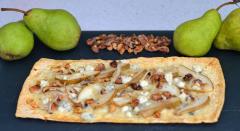 Preheat oven to 350.
Place walnuts on a cookie sheet and bake for 5 minutes.
In a small fry pay melt butter and saute onions until caramelized
Place flatbread on cookie sheet and top with oil and mozzarella cheese.
layer pear, blue cheese, walnuts, and onions on top.
Bake for 10 minutes or until cheese is melted.
Top with arugula before serving.
Published: Wednesday, August 26th, 2015



Vegetarian Italian Wedding Soup


Fall Beer Stew


Banana Peanut Butter Brownie Pizza


Red Wine Beef Stew


Spinach and Artichoke Dip
1 box cornbread Stovetop stuffing
3 eggs
2 cans crabmeat (6 oz.), drained
1 Tbsp butter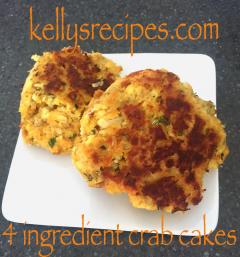 Cook stuffing according to package directions.
Add eggs and crabmeat to cooked stuffing
Form into 4 patties.
Melt butter in medium fry pan.
Cook patties until heated through and brown on both sides.
Published: Thursday, April 9th, 2015



Zucchini Bake


Cabbage Casserole in a Pumpkin


Garlic Beer Pretzels


Pumpkin and Chocolate Muffins


Cake Mix Cookies
1/2 cup brown rice
1 cup vegetable broth
1 tsp chili powder
1 tsp smoked paprika
1/2 tsp cumin
1/2 tsp garlic powder
1 cup sweet corn
1 cup black beans
1 avocado, diced
1 small onion, diced
2 Tbsp lemon juice
1 head of romaine lettuce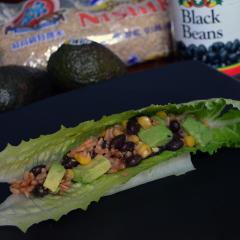 Place rice, broth and spices in rice cooker.
When rice is done cooking combine with corn, beans, avocado, onion, and lemon juice.
Scoop into a piece of lettuce.
Eat plain or with your favorite salsa.
Published: Monday, February 9th, 2015



Homemade Granola


Portabella Mushroom Fajitas


Pumpkin Muffins


Potato and Rosemary Pizza


Easy Eggplant Parmesan
Serves 3-4
A delicious vegetarian treat! Dress them up with lime juice, avocado, salsa, sour cream or anything else you can think of!
2 bell peppers, sliced
1 medium onion, sliced
3 medium portabella mushrooms, sliced
2 cloves garlic, crushed
1 Tbsp oil
6-8 tortilla shells
Marinade:

1 Tbsp red wine vine vinegar
1 Tbsp water
2 Tbsp olive oil
1/2 tsp chili powder
1/2 tsp worcestershire sauce
1/4 tsp smoked paprika
dash of salt and pepper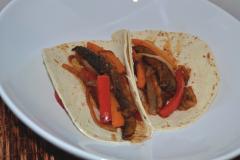 Slice all vegetables.
Combine marinade ingredients in separate bowl.
Marinade mushrooms for 30 minutes.
In a large skillet over medium-high heat, saute garlic in oil.
add peppers and onions and saute until peppers begin to soften.
combine mushrooms and any remaining marinade and saute until vegetables are a desired softness.
Serve in warm tortillas with your choice of toppings.
Published: Saturday, January 10th, 2015



Stuffed Mexican Baked Sweet Potatoes


Vegetarian Italian Wedding Soup


Fall Beer Stew


Veggie Burger Wonton Cups


BBQ Cauliflower Tacos