Desserts
Page 11
Submitted by: Candi
8 oz. cream cheese
1 lb Oreos any flavor
1 package Candiquik milk chocolate coating**
1/2 lb. white chocolate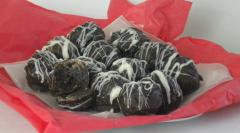 Grind Oreos to fine powder in food processor or blender.
Add cream cheese to cookie powder in processor and pulse until thoroughly mixed (there should be no white traces of cream cheese).
Roll into small or large balls and place on wax-lined cookie sheet. Chill 45 minutes.
Line two cookie sheets with wax paper.
In microwave, melt chocolate coating. Dip balls and coat thoroughly. With slotted spoon or fork, lift balls out of chocolate and let excess chocolate drip off. Place on wax-paper-lined cookie sheet.
In microwave, melt white chocolate. Using a fork, drizzle white chocolate over balls. Let cool.
Store in airtight container, in refrigerator.
**If you are unable to find Candiquick, you can also make these using melted chocolate. If you place chocolate chips on a plate on top of a pot of boiling water you can melt the chocolate chips and roll the Oreo balls in the chocolate. If chocolate becomes too hot turn off boiling water until desired consistency.
Published: Sunday, December 11th, 2011



Olive Tapenade Pinwheels


Apple Butter


Mushroom Gravy

White Chocolate Grapes


Slow Cooker Corned Beef and Cabbage
submitted by: Kristy
1 box yellow cake mix
1/2 cup cooking oil
1 cup canned pumpkin
1/4 cup sugar
1/4 cup water
4 eggs
1 1/2 tsp cinnamon
1/8 tsp nutmeg
1/8 tsp ginger
1 can cream cheese frosting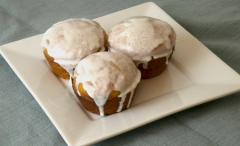 Preheat oven to 350 degrees.
Mix all ingredients well until smooth.
Use baking cups or grease muffin pan, fill half full of batter.
Bake for 30 minutes or until a toothpick inserted comes out clean.
Remove from pan and let cool.
When cool, top with cream cheese frosting.
Published: Sunday, November 6th, 2011



Martini Fruit Parfait


Homemade Granola


Cookie Dough Brownies


Crabmeat Cucumbers


Kale Salad
Submitted by: Sara
This is a perfect treat for 4th of July, just add blueberries and strawberries.
1 pkg. white cake mix
1/2 cup applesauce
2 eggs
2 cups Cool Whip
2 cups fresh fruit, diced
Preheat oven to 375 degrees.
In a large bowl mix cake mix, applesauce, and eggs with a spoon until mix is moistened.
Shape dough into one-inch balls and place on greased cookie sheet.
Bake at 375 degrees for 8-9 minutes or until the edges are light golden brown.
Cool one minute then remove from cookie sheet.
When cool, frost with Cool Whip and cover with fruit.
Published: Sunday, September 18th, 2011



Whoopie Pies


Spinach and Sundried Tomato Flatbread Sandwich


Vegetarian Italian Wedding Soup


Spinach and Artichoke Dip


Slow Cooker Creamy Chicken with Vegetables
Submitted by: Lyndsay
8 oz. cream cheese
1 small container marshmallow cream
Mix together cream cheese and marshmallow cream until well blended.
Add cinnamon and vanilla to taste.
Garnish with cinnamon.
Published: Sunday, September 18th, 2011



Peppermint Cookies


Avocado Mint Lime Ice Pops


Potato Cheese Soup


Slow Cooker Corned Beef and Cabbage


Simple Butternut Squash Soup