Sandwiches
3/4 cups lentils
1 cup brown rice
4 cups cups water
1 pkg sloppy joe seasoning
1 tsp garlic powder
1 Tbsp minced onions
1/2 can tomato paste
6 Tbsp ketchup
Bbq sauce to taste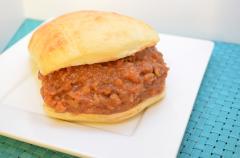 Combine lentils, rice, water and seasoning in the slow cooker. Cook on high for 4 hours. Add water if necessary.
When they are desired consistency, add sauces to taste.
Serve on hamburger buns.
Published: Thursday, January 2nd, 2014



Slow Cooker Corned Beef and Cabbage


Saltine Toffee


Italian Turkey Meatballs


Eggplant Stew


Rolo Stuffed Snickerdoodle Cookies
This sandwich is delicious with a Pear and Walnut Salad.
1 pear, thinly sliced
1 tsp honey
1/2 tsp cinnamon
Brie cheese
8 slices sourdough bread
butter
Spray a small saucepan with cooking spray and cook pear slices over medium heat for 5 minutes.
Add honey and cinnamon to pan and cook until tender.
Butter the outside of the bread slices and place a layer of Brie cheese and a payer of pear inside.
Grill in a medium skillet over medium high heat until both sides are golden brown.
Published: Sunday, September 15th, 2013



Fall Beer Stew


Banana Pancakes


Cream of Asparagus Soup


Eggplant Stew


Italian Turkey Meatballs
Submitted by: Kristy
These are a great lunch idea or a delicious appetizer!
1 8oz. package cream cheese, softened
1 Tbsp dill
1 loaf white bread
2 medium cucumbers, peeled and sliced
Mix together dill and cream cheese.
Spread cream cheese mixture on bread. (Number of slices depends on number of servings needed.)
Lay slices of cucumber on top of one of the bread slices. Top cucumbers with another piece of bread.
Remove crust and cut diagonally into four small triangles.
Repeat using all the slices of bread.
Published: Monday, January 23rd, 2012



Easy Doughnuts


Peanut Butter Balls


BBQ Cauliflower Tacos


Breakfast Potato Skins


Cabbage Casserole in a Pumpkin
2 lbs. mild Italian sausage
1 lb. hot Italian sausage
2 green peppers, sliced
1 large onion, sliced
2 jars marinara sauce
1 package sub (grinder) rolls
parmesan cheese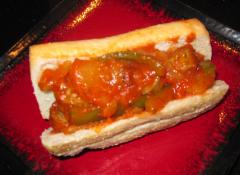 Brown Italian sausage and slice into bite size pieces.
In a crockpot or a large saucepan add all ingredients and simmer for several hours.
When ready to eat scoop a small amount of mixture into a bun and sprinkle with parmesan cheese.
Published: Wednesday, August 10th, 2011



Roasted Garlic


Avocado Mint Lime Ice Pops


Mango Guacamole


Dark Chocolate Pomegranate Cookies


Black Bean Soup