Recent Recipes
5 Tbsp dried minced onions
tsp parsley flakes
4 tsp salt
1 tsp garlic powder
Place minced onion in a food processor and chop until fine. Mix parsley flakes, salt, and garlic powder in food processor until well blended.
Store in an airtight container.
**To make dressing mix together 2 Tbsp dry mix with one cup mayonnaise and 1 cup milk.**
Published: Sunday, April 21st, 2013



Potato and Rosemary Pizza


Cream of Asparagus Soup


Chocolate No Bake Cookies


Cabbage Casserole in a Pumpkin


Mini Quiche
2 Tbsp olive oil
1 clove garlic, minced
1/2 cup dry bread crumbs
1/3 cup grated Parmesan cheese
1 tsp dried basil
1/4 tsp ground black pepper
2 large boneless skinless chicken breasts, sliced thinly in half so you have 4 pieces
Preheat oven to 350 degrees.
In a bowl, blend the olive oil and garlic.
In a separate bowl, mix the bread crumbs, Parmesan cheese, basil, and pepper.
Dip each chicken breast in the oil mixture, then in the bread crumb mixture.
Arrange the coated chicken breasts on a foil lined baking sheet, and top with any remaining bread crumb mixture.
Bake 30 minutes in the preheated oven, or until chicken is no longer pink and juices run clear.
Published: Monday, March 4th, 2013



Martini Fruit Parfait


Cheese Ravioli


Mint Whoopie Pies


Slow Cooker Corned Beef and Cabbage


Mushroom Gravy
1 Tbsp garlic salt
1 Tbsp onion powder
1 Tbsp sugar
2 Tbsp dried oregano
1 tsp pepper
1/4 tsp dried thyme
1 tsp dried basil
1 tsp dried parsley
1/4 tsp celery salt
2 Tbsp salt
In a small bowl, mix together the garlic salt, onion powder, sugar, oregano, pepper, thyme, basil, parsley, celery salt and regular salt. Store in a tightly sealed container.
To prepare dressing, whisk together 1/4 cup white vinegar, 2/3 cup oil, 2 tablespoons water and 2 tablespoons of the dry mix.
Published: Monday, March 4th, 2013



Cheese Ravioli


Breakfast Potato Skins


Chocolate No Bake Cookies


Vegetarian Chili


Baked Potato Nachos
1/2 cup all-purpose flour
1/2 cup whole wheat flour
3/4 cup sugar
1 cup creamy peanut butter
2 Tbsp milled flax seed
1 tsp baking powder
1/4 tsp salt
1/3 cup milk
2 large ripe bananas, mashed
1 large egg
1/3 cup mini chocolate chips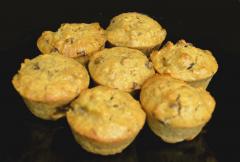 Pre-heat oven to 375 degrees.
Coat mini muffin cups with non-stick cooking spray.
Combine flour, sugar and peanut butter in large bowl with a fork until even crumbs form.
Add flax seed, baking powder and salt to flour mixture.
Stir in milk, bananas and egg until evenly moistened.
Stir in mini chocolate chips.
Fill mini muffin cups about 3/4 full.
Bake 20 to 22 minutes or until toothpick inserted in center comes out clean.
Cool a few minutes before removing from pan and finish cooling on a wire rack.

*Makes 36 mini muffins
Published: Monday, January 28th, 2013



Peanut Butter Balls


Oreo Truffles


Spinach and Artichoke Dip


Pumpkin and Chocolate Muffins


Vegetarian Chili