Recent Recipes
Add honey and rosemary to taste.
1 french baguette, sliced
olive oil
1 4 oz container ricotta cheese
2 Tbsp honey
1 Tbsp rosemary
Preheat oven to 450.
Mix together ricotta, honey and rosemary.
Coat one side of each slice with olive oil using a pastry brush.
Place on a cooking sheet, olive oil side down. Toast for 5-6 minutes, until the bread just begins to turn golden brown.
Spoon ricotta mixture on bread, olive oil side up.
Published: Monday, October 28th, 2013



Fall Beer Stew


Vegetarian Chili


Rolo Stuffed Snickerdoodle Cookies


Italian Sausage Grinders


Watermelon Cake Mix Cookies
sweet potatoes
salsa
black beans
onions
bell peppers
sour cream
shredded cheddar cheese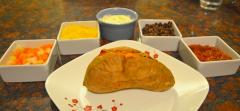 Preheat oven to 400
Cut a few small slits in the top of the sweet potato
Bake at 400 for about an hour or until potato is soft.
Slice open and top with your favorite goodies.
Published: Friday, November 1st, 2013



Green Chile Chicken Chowder


Zucchini Bake


Rolo Stuffed Snickerdoodle Cookies


Cookie Dough Brownies


Oreo Truffles
2 medium acorn squash, seeded and halved
1 cup brown rice, cooked
1 cup lentils, cooked
1 Tbsp olive oil, divided
1/4 cup onion, diced
1 clove garlic, minced
1 8oz pkg mushrooms, diced
1/4 cup dried cranberries
1/4 cup vegetable broth
4 oz goat cheese, crumbled
1/4 cup pistachios, chopped
1/4 tsp thyme
salt and pepper to taste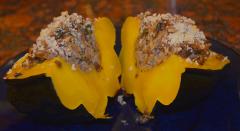 Preheat oven to 450.
Cook squash face down in a baking dish with a small amount of water.
Bake for 30 minutes or until tender.
Saute oil, onion, garlic, mushrooms and cranberries until tender.
Add broth and boil for about 5 minutes.
Add rice, lentils, nuts, herbs and cheese.
Place filling in acorn squash and serve.
Published: Monday, October 28th, 2013



Vegetarian Stuffed Acorn Squash


Zucchini Bake


Nutella Carmel Kiss Cookies


Easy Eggplant Parmesan


Peanut Butter Balls
2 large eggplants
3 Tbsp olive oil, divided
1 large onions, thinly sliced
6 oz. mushrooms, diced
6 cloves garlic, minced
2 tsp dried oregano, crumbled
1 tsp cinnamon
1 tsp salt
1 tsp pepper
1 bay leaf
2 cups vegetable broth
1 can chickpeas
1 28-oz can diced tomatoes
1/4 cup finely chopped fresh parsley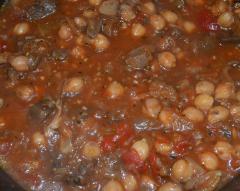 Meanwhile, peel eggplants and cut in half lengthwise. Brush the cut sides liberally with 2 tablespoons oil. Place on a rimmed baking sheet, cut-side down, and roast until tender, about 25 minutes. Let stand until cool enough to handle. Cut into 1-inch cubes and place in slow cooker.
Meanwhile, heat the remaining 1 tablespoon oil in a large skillet over medium heat. Add onions and mushrooms and cook, stirring frequently, until softened, 3 to 6 minutes. Add garlic, oregano, cinnamon stick, salt, pepper, and bay leaf; cook, stirring, for 1 minute. Add broth and chickpeas. Bring to a boil and cook, stirring occasionally, for 5 minutes. Transfer to the slow cooker and stir to combine with the eggplant.
Cover and cook until the chickpeas are very tender, about 4 hours on High 8 hours on Low.
Remove bay leaf. Stir in tomatoes and parsley.
Published: Tuesday, October 22nd, 2013



Slow Cooker Creamy Chicken with Vegetables


Cheese Ravioli


Shrimp and Asparagus with Goji Berries


Cornbread Casserole


Whoopie Pies