Recent Recipes
This recipe is very versatile. You will notice I haven't put portions because I make it different every time.
redskin potatoes
Wildtree roasted garlic grapeseed oil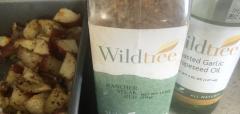 Preheat oven to 400
Dice potatoes.
Place potatoes in a baking pan and lightly coat and toss with oil.
Sprinkle with steak rub and toss the potatoes again to make sure they are evenly coated.
Use as mich or as little spice depending on how much flavor you would like.
Cover with tinfoil and bake for 30 minutes. (I like mine crispy so I stir them up and then put them back in uncovered to make sure they are crispy.)
Published: Monday, August 31st, 2015



Easy Fruit Topping


Cabbage Roll Soup


Spinach and Sundried Tomato Flatbread Sandwich


Seasoned Corn on the Cob


Pumpkin Muffins
Serves: 2
2 pieces of flatbread
1/2 cup walnuts
1/2 Tbsp butter
1 small onion, sliced
olive oil
mozzarella cheese
1 medium pear sliced
blue cheese
arugula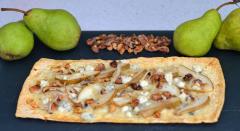 Preheat oven to 350.
Place walnuts on a cookie sheet and bake for 5 minutes.
In a small fry pay melt butter and saute onions until caramelized
Place flatbread on cookie sheet and top with oil and mozzarella cheese.
layer pear, blue cheese, walnuts, and onions on top.
Bake for 10 minutes or until cheese is melted.
Top with arugula before serving.
Published: Wednesday, August 26th, 2015



Spinach and Artichoke Dip


Crabmeat Cucumbers


Pumpkin Muffins


Cake Mix Cookies


Easy Fruit Topping
1 head cauliflower, diced
Garlic grapeseed oil (try Wildtree)
BBQ dry rub (try Wildtree memphis dry rub)
BBQ sauce
tortilla shells
lime coleslaw:

1 14 oz. bag coleslaw mix
1/2 cup mayo
1/2 tsp dijon mustard
1 tsp agave nectar
2 tsp apple cider vinegar
1/2 tsp chiptole lime rub (try Wildtree)
juice of 1 lime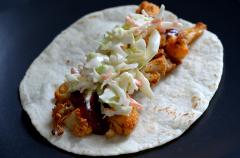 Preheat over to 375
Toss cauliflower in oil and dry rub until well coated and place in a baking sheet.
Cook for 45 minutes stirring halfway through.
Mix together all ingredients for lime coleslaw and set aside.
For taco assembly place cauliflower, BBQ sauce and coleslaw.
Published: Saturday, July 4th, 2015



Kale Salad


Oreo Truffles


Cornbread Casserole


Pizza Dough


Vegetarian Stuffed Acorn Squash
Easy and delicious made from scratch brownies.
1/2 cup butter, melted
1 cup sugar
1 tsp vanilla extract
2 eggs
1/2 cup all-purpose flour
1/3 cup cocoa powder
1/4 tsp baking powder
1/4 tsp salt
Heat oven to 350°F. Grease 9-inch square baking pan.
Stir together butter, sugar and vanilla in bowl.
Add eggs and beat well with spoon.
Combine flour, cocoa, baking powder and salt in separate bowl.
Gradually add dry mixture to egg mixture, beating until well blended.
Spread batter evenly in prepared pan.
Bake 20 to 25 minutes or until brownies begin to pull away from sides of pan.
Cool completely in pan on wire rack.
Published: Saturday, July 4th, 2015



Cabbage Roll Soup


Spicy Chicken Enchilada Soup


Pizza Dough


Spinach and Artichoke Dip


Rancher Steak Rub Potatoes