Wildtree
This recipe is very versatile. You will notice I haven't put portions because I make it different every time.
redskin potatoes
Wildtree roasted garlic grapeseed oil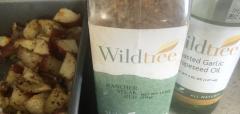 Preheat oven to 400
Dice potatoes.
Place potatoes in a baking pan and lightly coat and toss with oil.
Sprinkle with steak rub and toss the potatoes again to make sure they are evenly coated.
Use as mich or as little spice depending on how much flavor you would like.
Cover with tinfoil and bake for 30 minutes. (I like mine crispy so I stir them up and then put them back in uncovered to make sure they are crispy.)
Published: Monday, August 31st, 2015

See a list of recipes
here
or check out some of our suggestions:


Dark Chocolate Pomegranate Cookies


Pear and Walnut Salad


Pear, Walnut, and Blue Cheese Flatbread


Vegetarian Stuffed Acorn Squash


Banana Peanut Butter Brownie Pizza
1 head cauliflower, diced
Garlic grapeseed oil (try Wildtree)
BBQ dry rub (try Wildtree memphis dry rub)
BBQ sauce
tortilla shells
lime coleslaw:

1 14 oz. bag coleslaw mix
1/2 cup mayo
1/2 tsp dijon mustard
1 tsp agave nectar
2 tsp apple cider vinegar
1/2 tsp chiptole lime rub (try Wildtree)
juice of 1 lime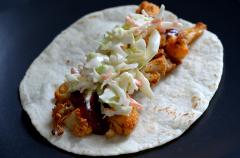 Preheat over to 375
Toss cauliflower in oil and dry rub until well coated and place in a baking sheet.
Cook for 45 minutes stirring halfway through.
Mix together all ingredients for lime coleslaw and set aside.
For taco assembly place cauliflower, BBQ sauce and coleslaw.
Published: Saturday, July 4th, 2015

See a list of recipes
here
or check out some of our suggestions:


Vegetarian Italian Wedding Soup


Apple Butter


Kale Salad


Shrimp Ceasar Wrap


Dark Chocolate Pomegranate Cookies