Eggplant Stew
2 large eggplants
3 Tbsp olive oil, divided
1 large onions, thinly sliced
6 oz. mushrooms, diced
6 cloves garlic, minced
2 tsp dried oregano, crumbled
1 tsp cinnamon
1 tsp salt
1 tsp pepper
1 bay leaf
2 cups vegetable broth
1 can chickpeas
1 28-oz can diced tomatoes
1/4 cup finely chopped fresh parsley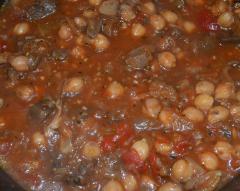 Meanwhile, peel eggplants and cut in half lengthwise. Brush the cut sides liberally with 2 tablespoons oil. Place on a rimmed baking sheet, cut-side down, and roast until tender, about 25 minutes. Let stand until cool enough to handle. Cut into 1-inch cubes and place in slow cooker.
Meanwhile, heat the remaining 1 tablespoon oil in a large skillet over medium heat. Add onions and mushrooms and cook, stirring frequently, until softened, 3 to 6 minutes. Add garlic, oregano, cinnamon stick, salt, pepper, and bay leaf; cook, stirring, for 1 minute. Add broth and chickpeas. Bring to a boil and cook, stirring occasionally, for 5 minutes. Transfer to the slow cooker and stir to combine with the eggplant.
Cover and cook until the chickpeas are very tender, about 4 hours on High 8 hours on Low.
Remove bay leaf. Stir in tomatoes and parsley.
Published: Tuesday, October 22nd, 2013 by Kelly