Cabbage Roll Soup
1 lb. ground beef
1 Tbsp oil
1 small onion, diced
2 cups cabbage, diced
2 cloves garlic, crushed
1/2 cup brown rice
2 cups tomato broth
4 cups beef broth
28 oz. canned diced tomatoes
2 cups sauerkraut
1 tsp smoked paprika
1 tsp paprika
2 bay leaves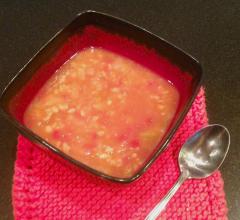 Brown the ground beef, drain the grease and place in slow cooker.
Heat the oil in the pan and add onions and cabbage and saute until tender, about 5-7 minutes.
Add the garlic and saute until fragrant, about a minute and place mixture in slow cooker.
Add the rice and toast for a few minutes.
Add 1 cup broth and deglaze the pan.
Combine all ingredients in crockpot and cook on low for 6-8 hours.
Published: Monday, September 30th, 2013 by Kelly