Fall Beer Stew
This is a delicious fall stew!
1 tsp butter
1/2 onion, sliced
1 bottle pumpkin beer
2 cups vegetable broth
1/2 small head cabbage, diced
4 small potatoes, peeled and diced
2 cloves garlic, minced
2 carrots, peeled and sliced
2 Tbsp apple cider vinegar
1 Tbsp parley
salt and pepper to taste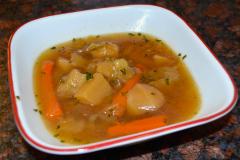 heat butter in pan and saute onions until golden brown (about 5 minutes).
Combine onions, beer, broth, cabbage, potatoes, garlic, and carrots into a crock pot and cook on low for 6-8 hours.
Add vinegar and spices just before serving.
Published: Monday, October 7th, 2013 by Kelly