Mint Whoopie Pies
This is my Grandma's secret whoopie pie recipe that I changed a little bit for St. Patrick's day. They turned out great!
Cake:
2 cups flour
1 tsp baking soda
1/4 tsp salt
1/3 cup cocoa
1 cup sugar
1 egg
1/3 cup vegetable oil
1 tsp vanilla
3/4 cup milk
Filling:
1 stick margarine, softened
1 cup powdered sugar
1 heaping Tbsp marshmallow fluff
1 tsp peppermint extract
4 drops green food coloring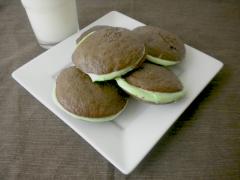 Preheat oven to 350.
Mix together dry ingredients.
Add egg, oil, vanilla, and milk.
Beat until smooth.
Drop by the tablespoonful onto greased cookie sheet allowing room for spreading.
Bake for 10- 12 minutes.
Remove from pan and let cool.
Combine all filling ingredients in a bowl.
Spread filling onto flat side of one cake and top with another cake creating a sandwich.
Published: Thursday, March 15th, 2012 by Kelly