Honey Chipotle Chicken Bites
Submitted by: Aaron
Recipe is for sauce. It tastes great on breaded chicken chunks. Cook chicken according to package directions. Toss with sauce when done baking.
1/2 cup dark Rum
1/4 cup soy sauce
1/4 cup white wine
2 tsp sugar
1 tsp ground ginger
1 tsp garlic, minced
1-3 Tbsp cornstarch
3 Tbsp lime juice
1 cup honey
1-3 Tbsp ground chipotle chile pepper (subtitute 1 canned chipotle per Tbsp)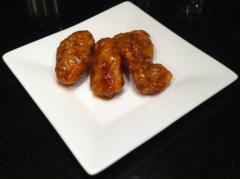 In small saucepan mix together rum, soy sauce, wine, sugar, ginger and garlic together and bring to a boil.
Combine cornstarch and lime juice and add to the sauce pan. Amount to use varies depending on preferred thickness. Add honey and 1 chipotle chile pepper. If desired, continue to add peppers until desired temperature.
Published: Sunday, February 12th, 2012 by Kelly