Shrimp and Asparagus with Goji Berries
2 Tbsp goji berries
3 Tbsp rice wine
2 Tbsp dark sesame oil
1 piece fresh ginger peeled and minced
2 cloves garlic peeled and minced
1 lb shrimp
1 lb asparagus in 1 inch pieces
2 Tbsp corn starch
1 1/2 Tbsp water
1 Tbsp soy sauce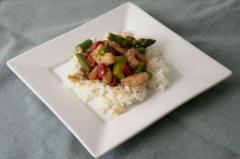 Cover goji berries with rice wine for 30 minutes or longer.
In skillet, sesame oil over medium heat.
Add ginger and garlic. Cook for 1 minute.
Add shrimp and cook about 3 minutes, place shrimp in bowl.
Add sesame oil to empty pan, add asparagus stalks for one minute.
Add tips and cook 3 more minutes.
Add shrimp, goji berries, and wine.
Mix corn starch and a little cold water in a bowl, avoid clumping.
Add mixture to pan, add soy sauce.
Published: Tuesday, March 1st, 2011 by Kelly