Easy Eggplant Parmesan
This is a very quick and easy dinner. I always make it when I want a delicious home cooked meal but just don't have the time.
1 box breaded, frozen eggplant cutlets (I buy mine at Trader Joe's)
1/2 jar spaghetti sauce
1 cup frozen or fresh spinach
1/2 cup mushrooms, sliced
mozzarella cheese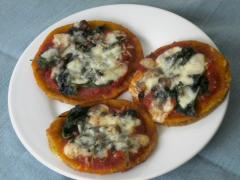 Preheat oven to 350.
Place eggplant on a lightly greased cookie sheet.
Spoon sauce on top of eggplant.
Top with spinach, mushrooms, and mozzarella cheese.
Bake for 30 minutes or until golden brown.
Published: Saturday, March 10th, 2012 by Kelly