Banana Peanut Butter Brownie Pizza
Brownie

1 stick butter, melted
1 cup sugar
1 tsp vanilla extract
2 eggs
1/2 cup all-purpose flour
1/3 cup cocoa powder
1/4 tsp baking powder
1/4 tsp salt
Brownie Topping

1/2 batch peanut butter frosting
1 1/2 bananas, sliced
1/4 cup orange juice
1/4 cup peanuts, chopped
1/4 cup chocolate chips
1 tbsp heavy cream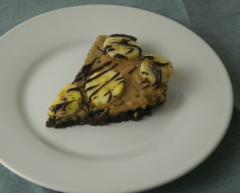 Preheat oven to 350.
Mix together ingredients for brownie batter (butter, sugar, vanilla, eggs, flour, cocoa powder, baking powder, and salt).
Place brownie mix in a greased 9 inch pie pan.
Bake for 20-25 minutes and let cool completely.
Frost brownie with peanut butter frosting.
Toss bananas in orange juice so they do not brown.
Top frosting with banana slices.
Sprinkle with peanuts.
Melt chocolate chips and heavy cream together. Drizzle on top of bananas.
Published: Tuesday, February 7th, 2012 by Kelly