Banana Pancakes
Submitted by: Kristy
1 1/2 cups all-purpose flour
3 1/2 tsp baking powder
1 tsp salt
1 Tbsp white sugar
1 1/4 cups milk
1 egg
3 Tbsp vegetable oil
2 very ripe bananas, mashed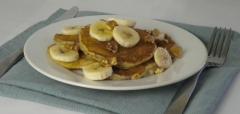 In a large bowl, sift together the flour, baking powder, salt and sugar.
Pour in the milk, egg, mashed banana and oil. Mix until smooth.
Heat a lightly oiled griddle or frying pan over medium-high heat.
Scoop the batter onto the griddle, using approximately 1/4 cup for each pancake.
Brown on both sides and serve hot.
Published: Friday, July 29th, 2011 by Kelly