Vegetarian Italian Wedding Soup
A vegetarian twist on a classic soup. I have made this for many of my meat eating friends and they love it! If you are looking for a meat alternative you can always add meatballs. Add them into the soup sooner so they have enough time to warm through.
olive oil
1 cup chopped onion
2 cloves minced garlic
3/4 cup diced carrots
3/4 cup celery
1 Tbs oregano
1 Tbs basil
1 Tbs parsley
6 cups vegetable broth
3/4 cup ditalini pasta (or other small pasta)
1 pkg. vegan meatballs (You can find these is the organic produce section or frozen section)
1 5 oz. pkg. spinach
1 clove minced garlic
2 Tbs lemon juice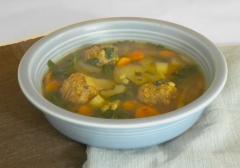 Heat oil in large pot over medium high heat.  Add onion and garlic.  Saute 5 minutes or until beginning to soften.
Stir in celery and carrots and cook 5 minutes more or until onion is softened.
Add spices.  Cook 1 minute more.
Stir in broth and bring to boil.
Reduce to medium heat.  Add pasta and cook at a low boil for 5 minutes (or half the stated directions on the package)
Add meatballs.  Reduce heat to medium low and simmer for 10 minutes.
Heat 2 Tbsp olive oil in skillet over medium heat.  Add remaining garlic.  Saute for 5 minutes.
Add spinach.  Cook 3-5 minutes turning constantly so spinach becomes evenly coated and wilted, but still bright in color.
Add spinach and lemon juice to soup.  Season with salt and pepper.
Published: Monday, May 23rd, 2011 by Kelly