Mushroom Gravy
1 portobella mushroom
8 oz mushrooms, shiitake or cremini would work well
3 cups vegetable stock
3 Tbsp butter
1/3 onion, diced
2 cloves garlic, minced
1 Tbsp white wine, (optional)
1 Tbsp butter
3 Tbsp corn starch
1 tsp thyme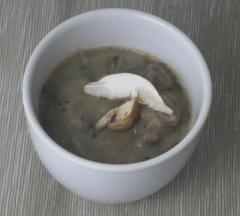 Remove stems from mushrooms. Place stems and stock in a medium saucepan over medium-high heat; bring to a boil. Reduce heat to low; simmer for 30 minutes. Strain; set aside.
Finely chop mushrooms.
Place butter in a large saute pan over medium heat. Add onions and garlic and cook until translucent, 3 to 5 minutes.
Add chopped and sliced mushrooms, and cook until mushrooms are soft and browned.
Add wine and remove from heat.
Place the remaining tablespoon butter and flour in a medium saucepan over medium heat; cook until browned and fully combined, 2 to 3 minutes.
Slowly whisk into stock; bring to a boil, whisking until thickened.
Add the reserved mushroom mixture and thyme, and stir to combine.
Published: Tuesday, February 7th, 2012 by Kelly