Grilled Summer Squash Salad
1 summer squash
6 tsp olive oil, separated
salt and pepper
1 ripe avocado
1 tsp lime juice
1/4 cup bread crumbs
1/4 tsp chili powder
1/2 tsp garlic powder
2 Tbsp balsamic vinegar
1 tsp dijon mustard
2 cups baby arugula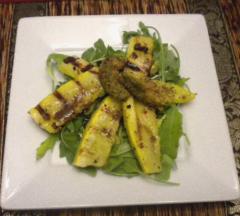 Preheat grill or grill pan.
Cut squash in half and then cut into eighths. You should have about 16 3-in pieces.
Mix together 1 tsp olive oil and salt and pepper. Feel free to add other spices to this mix.
Brush squash pieces with olive oil mixture. Grill until tender.
Cut avocado in half and put one half to the side. Cut lengthwise into strips and sprinkle lime juice over strips.
In small bowl mix together bread crumbs, chili powder and garlic powder. Coat avocado strips in mixture.
In a small frying pan add 1 tsp olive oil and cook avocado slices until golden brown on both sides.
Mix together remaining oil along with balsamic vinegar and dijon mustard.
Mash the remaining avocado and mix together squash, arugula and dressing.
Garnish with avocado fritters.
Published: Thursday, August 23rd, 2012 by Kelly