Cream of Asparagus Soup
I love the comfort of creamy soups in the winter. This one is a quick and easy vegetarian version.
1 1/2 lbs. asparagus
1 1/2 Tbs. olive oil
1 clove garlic
1 medium onion, diced
1/2 lb. potatoes, diced
2 vegetable bouillon cubes and 4 cups water
1 tsp salt
1 Tbsp lemon juice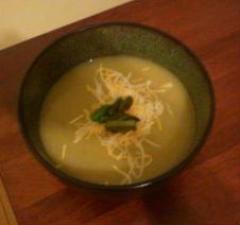 Reserve 8 spears of asparagus for garnish. Cut remaining asparagus stalks into 1-inch pieces.
In medium saucepan, heat oil over medium heat. Add garlic and onion and cook, stirring often, until beginning to brown, 5 to 10 minutes.
Add potatoes, cut-up asparagus and 4 cups water. Cover and bring to a boil over high heat.
Add bouillon and 1 tsp salt. Reduce heat and simmer, partially covered, until potatoes are tender.
Puree soup and drizzle with fresh lemon juice and black pepper just before serving.
Add a small amount of olive oil to a saucepan.  Cook remaining 8 spears of asparagus until tender.  Use as a garnish.
Published: Wednesday, July 13th, 2011 by Kelly