Slow Cooker Corned Beef and Cabbage
Submitted by: Mom
This is a St. Patrick's Day tradition in my family. We always use the left over corned beef for Reuben sandwiches.
1 corned beef brisket (about 3 lbs.)
8 small red skinned potatoes, quartered
8 whole black peppercorns
1 bag baby carrots
2 bay leaves
1 onion, cut into wedges
1 head cabbage, cored and cut into 8 wedges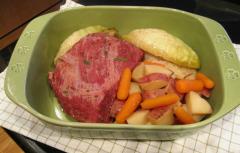 Add corned beef to slow cooker, including juices in the package.
Scatter on the potatoes, cabbage, carrots, onions, peppercorns, and bay leaves.
Add water to cover.
Cover and cook on low for 8 hours.
Slice meat and serve with vegetables.
Published: Sunday, February 19th, 2012 by Kelly