Cabbage Casserole in a Pumpkin
I love cabbage rolls and I love fall treats like pumpkin. This is a perfect combination of the two!
1 medium pumpkin
1 lb ground beef
1/2 onion, chopped
1 clove garlic, minced
1 tsp sugar
1 tsp Italian seasoning
1 tsp salt
1/4 tsp pepper
1 large can tomato soup
1 1/2 cups milk
2 cans diced tomatoes
1 cup uncooked white rice, or partially cooked brown rice
3 cups cabbage, shredded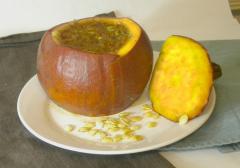 Preheat oven to 350 degrees
Cut of a wide top to the pumpkin, discard seeds.
Place hamburger in a large, deep skillet. Crumble and cook over medium high heat until evenly brown. Drain fat, add onion and garlic; saute slightly
Add together beef, seasonings, soup, milk, tomatoes, and rice.
Inside pumpkin, layer one layer of beef mixture and one layer of cabbage until pumpkin is full.
Place lid back on the pumpkin, place on baking sheet and bake for 2 hours or until cabbage is soft.
Published: Wednesday, November 16th, 2011 by Kelly