Vegetarian Stuffed Acorn Squash
2 medium acorn squash, seeded and halved
1 cup brown rice, cooked
1 cup lentils, cooked
1 Tbsp olive oil, divided
1/4 cup onion, diced
1 clove garlic, minced
1 8oz pkg mushrooms, diced
1/4 cup dried cranberries
1/4 cup vegetable broth
4 oz goat cheese, crumbled
1/4 cup pistachios, chopped
1/4 tsp thyme
salt and pepper to taste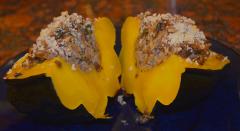 Preheat oven to 450.
Cook squash face down in a baking dish with a small amount of water.
Bake for 30 minutes or until tender.
Saute oil, onion, garlic, mushrooms and cranberries until tender.
Add broth and boil for about 5 minutes.
Add rice, lentils, nuts, herbs and cheese.
Place filling in acorn squash and serve.
Published: Monday, October 28th, 2013 by Kelly