Strawberry Spinach Salad
Submitted by Kristy "This is a perfect summer salad"
12 oz. baby spinach, washed and dried
1/3 cup sliced almonds, toasted
1 pint strawberries, (quartered)
1 small red onion (optional)
Dressing:

1/2 lemon, juiced
2 Tbsp white wine vinegar
1/3 cup sugar
1 Tbsp vegetable oil
1 tsp poppy seeds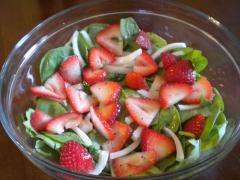 Toss all ingredients into a salad bowl.
Combine all dressing ingredients and whisk together.
Dress the salad right before serving.
Published: Saturday, May 21st, 2011 by Kelly