Spinach and Artichoke Dip
Submitted by: Jenn
Sure to be a party favorite. When I am making this for a party, i usually put it in a small crock pot and turn it on when the guests arrive. Best served with pita, tortilla chips or even veggies.
1 (8 ounce) package cream cheese, softened
1/4 cup mayonnaise
1/2 cup Parmigiano-Reggiano cheese
1 clove garlic, peeled and minced
1/2 teaspoon dried basil
1/4 teaspoon garlic salt
salt and pepper to taste
1 (14 ounce) can artichoke hearts, drained and chopped
1/2 cup frozen chopped spinach, thawed and drained
1/4 cup shredded mozzarella cheese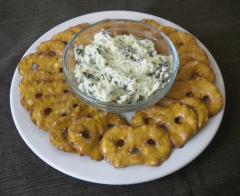 Preheat oven to 350 degrees F
Lightly grease a small baking dish.
In a medium bowl, mix together cream cheese, mayonnaise,Parmigiano-Reggiano cheese, garlic, basil, garlic salt, salt and pepper. Gently stir in artichoke hearts and spinach.
Transfer the mixture to the prepared baking dish.
Top with mozzarella cheese.
  Bake in the preheated oven 25 minutes, until bubbly and lightly browned.
Published: Tuesday, August 9th, 2011 by Kelly