Red Wine Beef Stew
Submitted by: Aaron
1/2 cup all purpose flour
salt and pepper
3 lbs. beef stew meat cut into cubes
2 Tbsp unsalted butter
2 tsp vegetable oil
2 carrots, sliced
2 ribs celery, sliced
1 yellow onion, thinly sliced
2 medium sized potatoes, peeled and cubed
1 tsp whole peppercorns
1 bottle hearty red wine
1 28 oz. can diced tomatoes
1 cup beef broth
2 Tbsp tomato paste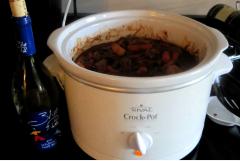 On a plate stir together 3 tablespoons of flour, 1 teaspoon salt, and 1 teaspoon pepper. Turn the beef pieces in the seasoned flour shaking off any excess.
In a larger Dutch-oven over medium heat melt butter with the oil. Cook the beef until browned on all sides, about 10 minutes. Remove from pan and set aside.
Add the carrots, celery, onion, potatoes, and peppercorns to the pan. Cook over medium-high heat, stirring often, until the onions and carrots begin to brown, about 5 minutes.
Pour in red wine to deglaze the pan, stirring and scraping up the brown bits.
Stir in tomatoes and broth and bring to a boil.
Stir in the remaining flour and the tomato paste. Cook, stirring frequently, until the mixture has thickened, about 1 minute.
Return the beef to the pan and season to taste with salt and pepper.
Preheat oven to 350 degrees. Cover the Duth-oven and place in preheated oven. Stir occasionally and cook for 2 hours.
** This stew can also be made in a slow cooker. After ingredients have been prepared, put them in a slow cooker and cook on high for 4 hours or on low for 608 hours.**
Published: Sunday, January 1st, 2012 by Kelly