Potato Cheese Soup
This is a perfect fall or winter soup. It can easily be made vegetarian just by substituting vegetable broth.
2 tsp olive oil
1 cup onion. diced
1 cup celery, diced
6 cups chicken broth
1 cup milk
3 cups potatoes, cubed
8 ounces shredded cheddar cheese
1/2 tsp salt
1/4 tsp ground white pepper
1 tsp dry mustard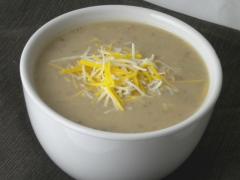 In a fry pan saute onions and celery in olive oil until tender.
Boil potatoes until soft. Drain and return to pot.
Add celery and onion mixture, broth, and milk. Bring to a simmer.
Blend with an emersion blender until smooth
Add cheese, salt, white pepper, and dry mustard. Stir until combined and cheese is melted.
Published: Sunday, August 7th, 2011 by Kelly