Potato Casserole and Gravy
20 fingerling potatoes, diced
5 oz. mushrooms, diced
2 cloves garlic
olive oil
5 oz. baby spinach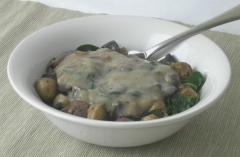 Preheat oven to 350.
In a 9x13 casserole dish combine mushrooms, potatoes, and garlic and toss with olive oil.
Cover with tinfoil and bake for 60 minutes or until potatoes are tender.
While potatoes cook make gravy.
In saute pan, saute spinach in a small amount of olive oil until wilted.
Mix spinach with potatoes and serve topped with gravy.
Published: Tuesday, February 7th, 2012 by Kelly