Nutella Carmel Kiss Cookies
1/2 cup shortening
1/2 cup Nutella
1/2 cup granulated sugar
1/2 cup brown sugar
1 tsp baking powder
1/8 tsp baking soda
1 egg
2 Tbsp milk
1 tsp vanilla
1 3/4 cup all purpose flour
1/4 cup granulated sugar for rolling
36 Carmel Hershey Kisses, unwrapped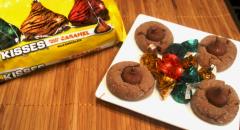 In a large mixing bowl, beat shortening and Nutella.
Add the 1/2 c granulated sugar, brown sugar, baking powder, and baking soda and beat until combined.
Beat in egg, milk, and vanilla.
Beat in the flour.
Scoop out rounded tablespoons and roll dough into 1-inch balls.
Roll the balls in the granulated sugar and place 2 inches apart on a parchment lined, ungreased cookie sheet.
Bake at 350 for 8-10 minutes, until edges are set.
Remove from over and immediately press a kiss into the center of each cookie.
Remove from pan and cool in a wire rack.
Makes approx. 3 doz cookies
Published: Monday, December 24th, 2012 by Kelly