Mexican Lasagna
Mexican Lasagna is a quick and easy entree for guests or just a hungry family. For an added twist serve with salsa, sour cream, guacamole and tortilla chips.
2 tsp olive oil
1 1/2 cups chopped onion
1 lb. zucchini, diced
2 tsp cumin
1 can diced tomatoes with chiles
1 can black beans, rinsed
1 can corn, drained
1 can mild enchilada sauce
1/2 cup cilantro
5 (8 in) flour tortilla shells
1 1/4 cup shredded cheese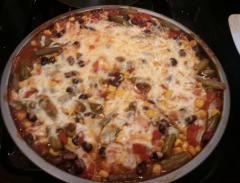 Preheat oven to 400 degrees
Heat oil in large skillet over medium heat.  Add onion and saute for 5 min.
Add zucchini and cumin.  Saute for 5 minutes or until tender.
Stir in tomatoes, beans, corn, and enchilada sauce.  Remove from heat.
Stir in cilantro.
In 3 qt round greased baking sheet layer 1 tortilla.  Top with 1 1/2 cups mixture.  Sprinkle with 1/4 cup cheese.  Repeat 4 times.
Cover with foil and bake at 400 for 20-25 minutes or until cheese is melted.
Published: Monday, May 23rd, 2011 by Kelly