Mango Guacamole
Adding mango to quacamole gives it a sweet taste. If you are looking to add a little more kick to it I suggest adding a jalapeno pepper.
When I make guacamole I also save the avocado pit to put back in the mix when I am done making it. It helps stop the avocado from browning.
4 ripe avocados
1 medium tomato, chopped
1 mango, chopped
1/3 cup onion, chopped
2 tsp chili powder
1 tsp garlic powder
1/2 teaspoon sea salt
1/4 teaspoon black pepper
juice of 2 limes
a big bunch of cilantro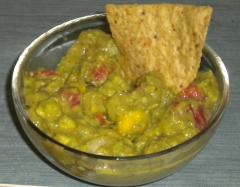 Take the avocados out of shells and mash together.
Combine all other ingredients.
Chill.
Published: Friday, July 29th, 2011 by Kelly