Homemade Granola
This is a great dish to experiment with! When it calls for 1 1/2 cups dried fruit get creative. Some ideas include cherries, cranberries, blueberries, apricots, pineapple, coconut, chocolate chips and peanut butter. This is also a good time to add some healthy extras such as flax or chia seeds.
1 cups rolled oats
1/4 cup sunflower seeds
1/2 cup sliced almonds
1/4 cup wheat germ
1/4 cup honey
2 Tbsp brown sugar
1 Tbsp butter
1 tsp vanilla extract
1/4 tsp salt
1 1/2 cup dried fruit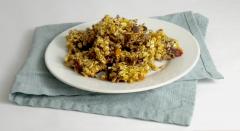 Preheat oven to 350 degrees
Combine oats, sunflower seeds, almonds, and wheat germ on a cookie sheet. Place in oven to toast for 15 minutes, stirring occasionally. When removed change temperature to 350.
In small saucepan combine honey, brown sugar, butter, vanilla and salt. Cook over medium heat until completely dissolved.
Immediately combine oat mixture and honey mixture along with any other mix-ins.
Place in greased 8x8 baking dish and bake for 25 minutes. Wait to cut until granola has completely cooled.
Published: Monday, December 5th, 2011 by Kelly