Chocolate No Bake Cookies
This recipe will yield about 3 dozen cookies.
2 cups white sugar
1/4 cup unsweetened cocoa powder
1/2 cup Milk
1/2 cup Margarine
1 tsp vanilla extract
1 pinch salt
1/2 cup chunky peanut butter
3 cups quick cooking oats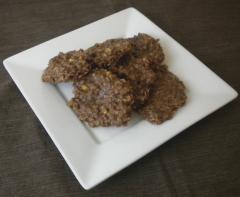 In a saucepan over medium heat, combine the sugar, cocoa, milk and margarine.
Bring to a boil, stirring occasionally. Boil for 1 minute and remove from heat.
Stir in the vanilla, salt, peanut butter, and oats.
Drop spoonfuls onto waxed paper. Allow cookies to cool for at least 1 hour. Store in an airtight container.
Published: Saturday, February 19th, 2011 by Kelly