Cake Mix Cookies
Submitted by: Kristy
These cookies are always a party favorite. If you are looking for a way to spice up the regular cookies here are a few other choices.
Devils food cake mix with peanut butter chips (no frosting)
Snickerdoodles - yellow cake mix, stir in 2 tsp. cinnamon and roll top of the dough balls in cinnamon-sugar mixture
Red velvet cake mix with cream cheese frosting
1 pkg. white cake mix
1/2 cup oil
2 eggs
½ can of cake frosting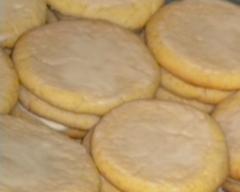 Preheat oven to 375 degrees.
In a large bowl mix cake mix, oil, and eggs with a spoon until mix is moistened.
Shape dough into one-inch balls and place on ungreased cookie sheet. Flatten the balls.
Bake at 375 degrees for 8-9 minutes or until the edges are light golden brown.
Cool one minute then remove from cookie sheet.
Frost immediately while cookies are warm. Let frosting harden.
Published: Saturday, May 21st, 2011 by Kelly