Black Bean Soup
Submitted by: Kristy
5 strips bacon
1 Tbsp vegetable oil
2 medium onions, diced
2 Tbsp cumin
4 cups chicken broth
4 cans black beans, drained and rinsed
salt and pepper to taste
2 cups cooked ham, cubed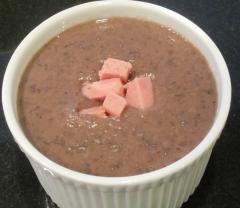 Cook bacon in the bottom of a medium stockpot.
When bacon has cooked, add vegetable oil and onions and cook until onions are soft.
Remove bacon. It is no longer needed for this recipe.
Add cumin, chicken stock and black beans. Bring to boil and simmer 20 minutes.
Use a hand blender to puree soup mixture. Add salt and pepper to taste.
Add ham cubes.
Simmer for an additional 40 minutes or until soup thickens.
Published: Wednesday, November 16th, 2011 by Kelly