Baked Potato Nachos
8 red potatoes
olive oil
1 oz. powdered ranch dressing mix
1 tsp garlic powder
2 cups shredded cheddar cheese
2 cups sour cream
6 green onions, chopped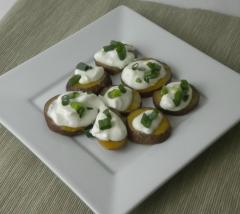 Preheat oven to 400
Cut potatoes into 1/4" thick slices
Toss potato slices in oil and place in baking dish. Cover with ton foil and bake on high for 40 to 60 minutes.
When potatoes are tender, remove from over and let cool for 10 minutes. Change oven temperature to 350.
Line potatoes on a greased cookie sheet and top with ranch, garlic and cheese. Bake for 10 minutes or until cheese is melted.
Top with sour cream and green onions.
Published: Sunday, February 12th, 2012 by Kelly